US giant swoops on prosperous Clydebank business.
THE managing director of one of Scotland's leading label printers has pledged a long-term commitment to staff at its Clydebank facility after the company was the subject of a £16m takeover.
Managing director Alex Mulvenny said the future was bright for Labelgraphics after it was acquired by Multi-Color Corporation (MCC) as part of the US firm's global expansion into the European wine and spirits market.
News of the buy-out came just weeks after Mulvenny welcomed finance secretary John Swinney to the plant where a £5m expansion plan is currently underway.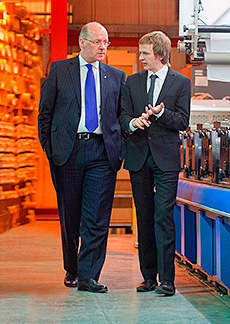 He said: "The Labelgraphics' senior management team looks forward to being part of MCC, including being part of the global leader in wine and spirit labels. We continue to make a long term commitment to our Scottish operation and our integration into the MCC group."
MCC secured 100% ownership of Labelgraphics Holdings for a purchase price of approximately £16.5m less net debt, including a future performance based sum of approximately 25%.
Labelgraphics, which was established in 1983, predominantly supplies the UK's spirit and wine market. In recent years it has enjoyed strong growth in its global shipments to developing markets. It has also capitalised on an increase in bulk wine shipments to the UK for bottling and labelling.
MCC was attracted to Labelgraphics because it shares many common multi-national customers with MCC and the same label technologies and suppliers. MCC president and CEO, Nigel Vinecombe sees its relocation to a brand new facility and recent additional press capacity in Glasgow as an opportunity for significant growth.
He said: "We have had an excellent relationship with Labelgraphics' owners for many years.
"We are delighted Alex Mulvenny will continue to run Labelgraphics and also be a member of our global senior leadership team, including responsibility for global account management for a number of key customers."
MCC said the acquisition is an important component in its plan to secure "significant coverage" of the large European wine and spirit markets. Labelgraphics will become part of its European Group which has operations in Italy, France and Poland.
Earlier this year Labelgraphics began an expansion strategy that it said would create more than 20 new jobs by investing in a new purpose built factory, a 510mm wide EMS Gallus press and an upgrade of its existing presses. The business secured £1.8m funding support from Lloyds Banking Group and a further £1.25m of Regional Selective Assistance funding from Scottish Enterprise.
Mulvenny said the move would boost turnover to £12m in the coming year; while the implementation of lean management processes, as well as plans to add a further 40,000 sq. ft. extension will help to increase projected turnover to £20m in the next five years.
It would continue to work on a variety of challenging customer projects, some of which include: QR code technology, 3D material stocks, Dual Height Embossing, Scratch off inks and foils, Thermochromic Technologies and RFID tags.