A frozen meal manufacturer has swapped metal for plastic in a bid to reduce costs and increase production.
COOK Trading Ltd has switched from metal trays to plastic containers to store its raw ingredients ready for production.
The Sittingbourne firm's decision to turn to independent plastic pallets and containers supplier Goplasticpallets.com has also lightened the load for workers who find it much easier to deal with the plastic alternative.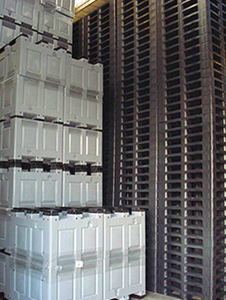 The company has now placed three orders to date comprising 276 GoBox, 5035 food containers in grey and 27 custom-made double dollies.
They estimate the switch has had a dramatic result on the business, saving almost £4,000, helping to increase production and reducing the weight of loads.
Tony Mayer, procurement manager at COOK, said: "Between 10 and 15kg of raw ingredients is typically placed on each tray and the maximum weight we place on a dolly is about 120kg. The metal trays added unnecessary weight to a heavy load. The first proof of its cost-effectiveness became apparent almost immediately – had we purchased the same volume in metal trays it would have cost an extra £3,800."
Meanwhile, Goplasticpallets.com has expanded its warehouse facility in Eastbourne, East Sussex, which now stocks an even greater range of plastic pallets and containers.
The warehouse expansion has made it possible for the firm to double the volume of products it holds in stock, allowing the company to offer customers a wider selection of plastic pallets and containers.
Jim Hardisty, managing director, said: "Our close partnerships with some of Europe's leading manufacturers and our experienced and dedicated sales team have helped us get to where we are today."