SOFT drinks giant AG Barr was forced to fork out almost £1m on outsourcing production when upgrades to facilities at its Cumbernauld plant were delayed.
But that did not stop the firm famous for its Irn-Bru brand from increasing turnover and boosting profits last year.
In its final results to the end of January, Barr's turnover jumped 6.6% to £237m while profit on ordinary activities before tax and exceptional items increased by 6.2% to £33.6m.
The firm reported solid performances for all its core brands with particularly strong growth in its exotic juice brands, Rubicon and KA.
Plans to build a new production and warehouse facility in Milton Keynes are in the final stages of contractual discussions and if all goes to script should be operational in the summer of 2013.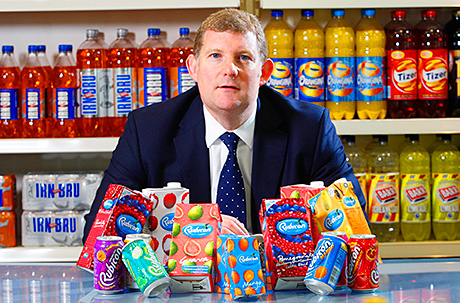 It also highlighted significant increases in the price of raw materials which required "strenuous management" to minimise the impact on margins.
However, operationally much of its attention was focused on the completion of a new production investment at its Cumbernauld plant where new line commissioning was delivered late, forcing the firm to outsource work at a cost of £900,000.
Despite the problems, it said the business responded well across the summer months and has now fully recovered.
It said: "The combination of late delivery of equipment and commissioning challenges in relation to production packaging equipment in tandem with the increased complexity of our production requirements led to capacity shortfalls and consequent cost inefficiencies across the summer of 2011.
"The team worked hard to minimise the effect on both customers and from a financial perspective, however our performance was inevitably impacted.
"We have learned numerous lessons and, importantly, we made very good progress across the final quarter of the year to improve our outputs, planning and customer service levels. We are pleased to report that our Cumberbnauld site's performance is now meeting and in some cases exceeding our output expectations and helping to support the growth we anticipate looking forward to."
Roger White, chief executive, said Barr had demonstrated its resilience in the face of challenging market conditions, in particular coping with substantial raw material costs.
He added: "We anticipate 2012 will be another challenging year in the UK, with household disposable incomes remaining under pressure.
"Despite this, we remain confident that our financial strength, backed up with strong sales momentum across our core brands, excellent innovation and our anticipated capital investment programme will facilitate further good progress."