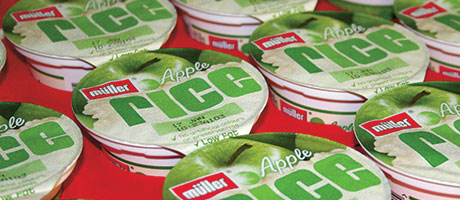 ROBERT Wiseman Dairies' management team will play a key role in the future of the business following the completion of the £279m takeover by Müller Dairy.
The family-owned milk producer will continue to work from its Lanarkshire headquarters and operate dairies in Aberdeen, Glasgow, Manchester, Droitwich Spa and Bridgwater and 15 distribution centres around the country.
After the boards of Müller and Wiseman reached agreement on the terms of a recommended cash offer, the German-owned dairy firm said Wiseman's executive management team was a "key strength" and would continue to lead the business from its East Kilbride head office.
It said discussions about specific roles in the enlarged group and terms of employment would take place after the offer has completed.
However it had "no current intention" to change the locations of Wiseman's places of business and that existing contractual and statutory employment rights, including in relation to pensions, of all Wiseman Group employees would be safeguarded in accordance with statutory and contractual requirements.
It added: "However, as with any acquisition, Müller expects, on gaining control of Wiseman, to review the business and may identify certain operational changes which may impact the group."
In a statement issued to the London Stock Exchange, it said: "The combination of Müller and Wiseman brings together two complementary players in the British dairy industry – Wiseman as a leading producer of fresh milk and Müller as the leading producer of yoghurt and potted desserts.
"The combined group will have significantly enhanced scale in the United Kingdom, further increasing the breadth of the Müller group across Europe.
"The combination will create a platform to enhance efficiency and competitiveness across both businesses through the sharing of best practice techniques. In addition, the complementary expertise of Müller and Wiseman will leave the businesses better placed to capitalise on growth opportunities."
The Müller Group is a group of private companies ultimately owned by Theo Müller operating in the dairy sector. Müller is the current holding company of the Müller Group and is the ultimate controlling company of Müller Dairy (UK).
It is heartening to know that the business will become part of another family-owned business in Müller
The Wiseman business was founded in 1947 and today processes and delivers approximately one third of the fresh milk consumed in Britain.
Robert Wiseman, executive chairman, said: "The combination of Müller and Wiseman makes strong commercial and strategic sense, creating a leading integrated dairy business in the United Kingdom with complementary positions in the yoghurt and potted desserts market and the fresh milk market.
"Wiseman has its origins as a family business and, since listing in 1994, my family has retained a significant stake in the business. It is heartening to know that the business will become part of another family-owned business in Müller."
Heiner Kamps, chief executive officer of Müller, said: "This is an exciting strategic move by Müller to enter a new market segment in the UK.
"The combination of these complementary businesses will form a leading dairy player offering a range of exceptional products to our customers across the UK.
"This will create significant opportunities which will benefit suppliers, customers, consumers and employees."