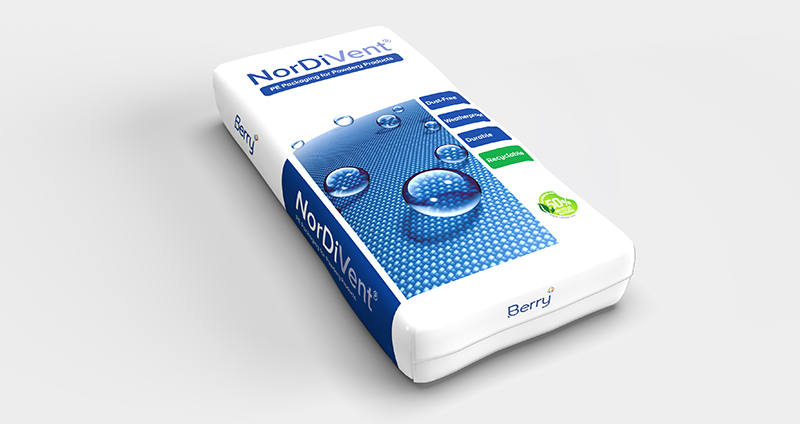 BERRY Global's flexible films facility in Steinfeld, Germany, is working with filling equipment specialist Haver & Boecker to create a closed loop system for the collection and recycling of Berry's brand of NorDiVent film bags.
The pilot project is designed to prove the feasibility of collecting and recycling empty bags to demonstrate how plastic can assist circular economy goals. This forms part of Berry's sustainability strategy and BMore Together initiative.
The project involves the collection of residual NorDiVent film from the test runs that every Haver & Boecker ADAMS filling machine undergoes before being shipped to the customer. These films are returned to Berry Steinfeld's in-house recycling facility. The recovered plastic is washed, shredded, processed into regranulate, and used in the manufacture of new tubular film.
"We are delighted to be partnering with Berry on this important project," said Christian Reinke of Haver & Boecker. "It enables our customers to enjoy the many benefits of plastic film while demonstrating that the used bags are a valuable resource that can be recycled. Equally important, the bags containing recycled plastic meet the high standard of technical performance required for powder-based products."
Frank Heseding, sales director for Berry Steinfeld, added, "This is an important initiative that shows how it is possible to close the loop for plastic film, with a practical solution that collects and recycles the film to produce a high-quality bag containing up to 50% recycled plastic. The demand for recycled material will continue to grow, as businesses seek to strengthen their activities around the circular economy. Projects such as this clearly show how plastic can be part of the solution."
Berry and Haver & Boecker hope the project will act as a catalyst for the development and introduction of similar schemes.