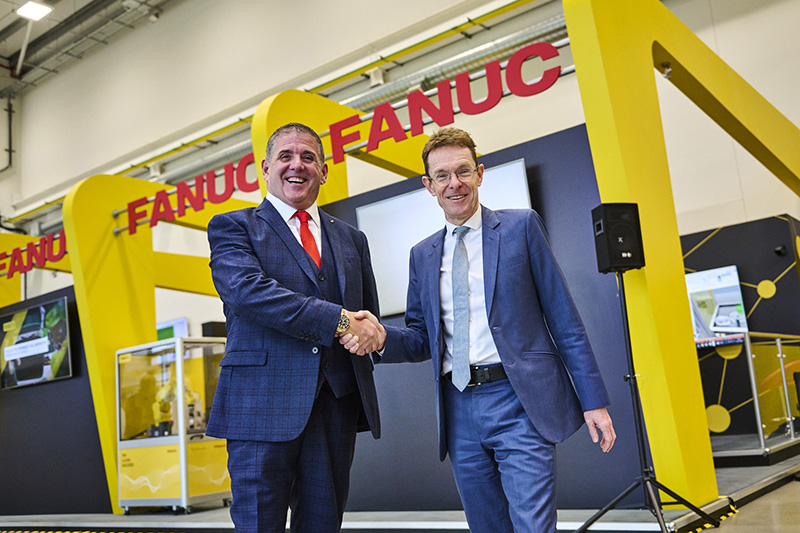 THE MD of FANUC UK has called on the government and political leaders to develop a cross-party strategy to secure the future of UK manufacturing.
Speaking at the FANUC Open House event in Coventry, Tom Bouchier said, "Make UK's recent report has identified that 99% of manufacturers want an industrial strategy, and 87% believe it would give their business a long-term vision. What we need now is a coherent, joined up strategy for manufacturing, with cross-party consensus, to give businesses the certainty they so badly need.
"As the only developing country without an industrial strategy, we're in danger of being left behind if we can't deliver this soon."
Taking place from November 14-16 at FANUC's UK HQ, the Open House event is showcasing the latest innovations in automation and robotics to help manufacturers improve the efficiency and productivity of their factories, as well as alleviate labour shortages.
In attendance was Andy Street, mayor of the West Midlands, who encouraged businesses to embrace automation. "Manufacturing is a worldwide, competitive race and in order for UK firms to be competitive, they need to increase their productivity," he stated. "Automation solutions such as those on display at the FANUC Open House can help UK companies to remain competitive in the long term. What's happening here is really important for the future of our economy."
Encompassing panel debates, case studies, 35 exhibitors, live robot demonstrations and the finals of the WorldSkills UK Industrial Robotics competition, the FANUC Open House brings together stakeholders from the world of robotics, automation, manufacturing and academia.
The morning's first panel debate, focusing on overcoming barriers to automation, featured insights from Stuart Whitehead of the Jefferson Group, who said many UK firms are still 'addicted' to cheap manual labour, focusing on short-term costs rather than long-term gains.
The panel agreed that highlighting the longer-term paybacks of automation is key to encouraging greater uptake of robotics in the UK.
Day one of the event focuses on the future of manufacturing, while day two tackles sustainability. Day three will be dedicated entirely on education, featuring presentations by current and past apprentices as well as the live final of the WorldSkills UK industrial robotics competition.