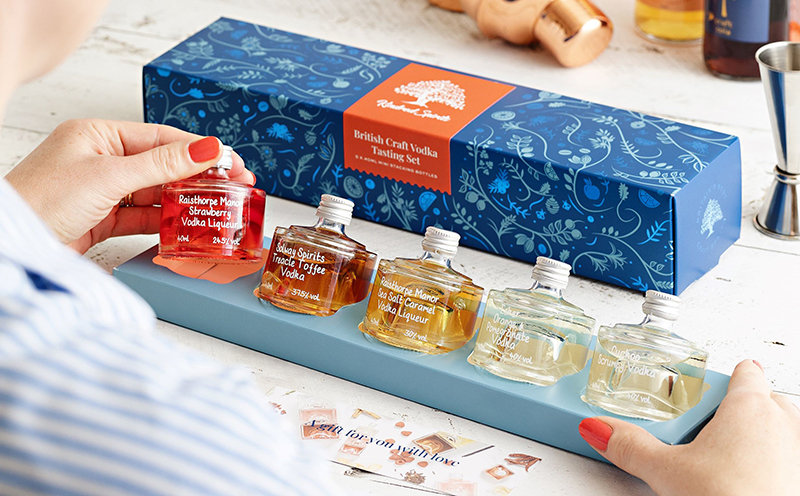 A gift set carton created by Falconer Print & Packaging for distiller Kindred Spirits has reportedly received 'glowing' reviews since its launch earlier this year.
The carton contains five 40ml miniature bottles of craft spirits from up to five different distillers around the UK.
Cumbria-based Kindred Spirits collaborates with craft British distillers to introduce an array of gin, rum, vodka, and whisky to consumers unfamiliar with these brands. The distiller discovered Falconer at a packaging trade event, where the carton manufacturer's solutions caught their attention. From this initial encounter, it took five months to bring the gift set to fruition.
Crafted from Iggesund Incada Silk 590um, the design features two Pantone blues. It has been accentuated with Kurtz Blue 369 foil. To contrast the foil, a matt varnish was applied to all non-foil areas.
Falconer explained the carton functionality had been designed to keep the end user in mind. Created as a sharing set, it allows customers to choose from a range of miniature spirits. The carton follows a gift format that comes with a 'smooth' locking tab with no raw edges.
Once opened, a tray slides out revealing the spirits. The carton is designed to be generic but adds a touch of personalisation with a hand-applied sticker, indicating the curated set of spirits chosen.
Oliver Barker from Kindred Spirits said, "We had an excellent working relationship with Falconer. Their communication skills are outstanding and they were very accommodating throughout this project. Looking ahead, there are a few prototypes in the mix that we are looking at with Falconer."
Falconer's Colin Pow added, "Working with Kindred has been a remarkable journey. They are an innovative retailer that believes in amplifying the joy of gifting. Together, we've created a gift box that not only meets but surpasses expectations."