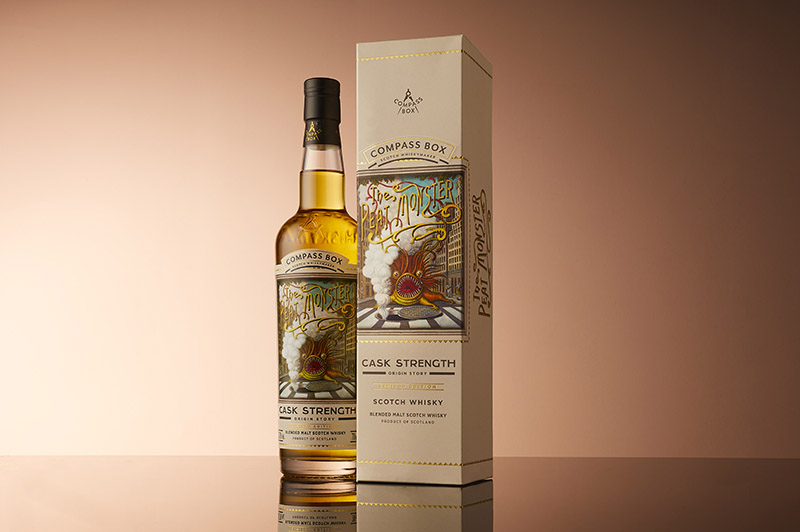 CARTON manufacturer Falconer Print & Packaging has produced a 'premium' solution for Compass Box, a producer, bottler and marketer of a range of blended Scotch whiskies.
The design, produced by packaging design and branding company Stranger and Stranger, marks the 20th birthday of The Peat Monster – a limited-edition blended malt Scotch whisky with its roots in the USA and part of the Compass Box range of core whiskies.
In creating the carton, Falconer chose Crown Prestige 610 micron cartonboard, principally for its strength and uncoated reverse side which offered a 'superb' printing surface, on which a cool grey colour was applied.
Features include the overlapping of the centre panel over the side panels to provide a modern touch. The illustration was printed in a four-colour process and framed with a background colour and outlined with a hot foil.
To draw attention to the illustration and brand, Falconer explained that a deboss around the edges was added. An emboss of 'Compass Box' was also included, while the sides of the carton had a hot foil and a debossed 'The Peat Monster' name style, with a black drop shadow to add more depth to the product title.
On the reverse, a 'complex' debossed keyline was included to create a 'tactile, premium feel'. The lid boasts a hot foil with extra pressure applied for a deboss effect. All edges of the carton were tucked or folded over to eliminate any raw edges.
Falconer added that the fully recyclable carton looks both 'vintage and modern', with 'delicate' design features helping it to stand out.
Rachel Meckler, NPD manager at Compass, said, "The finished carton looks great, the material is of great quality and the design stands out. It looks very premium. We tend to work with Falconer for all our standard gift cartons as their quality, turnaround and flexibility are good. They are also able to meet the quality we are looking for in our intricate designs.
"We have an excellent working relationship with Falconer and the team is very friendly. We often have tight deadlines and things that need to change when the process has already started; in that, they are very accommodating. We are still a fairly small business, so flexibility is important to us."
Colin Pow, sales & marketing director at Falconer, added, "After a rewarding four-year collaboration with Compass Box, we take great pride in unveiling an exceptionally remarkable final product. This project exemplifies Falconer's core values, where we provide our customers with a solution-oriented, personalised approach, ensuring the utmost quality in both service and product, all while delivering genuine added value."