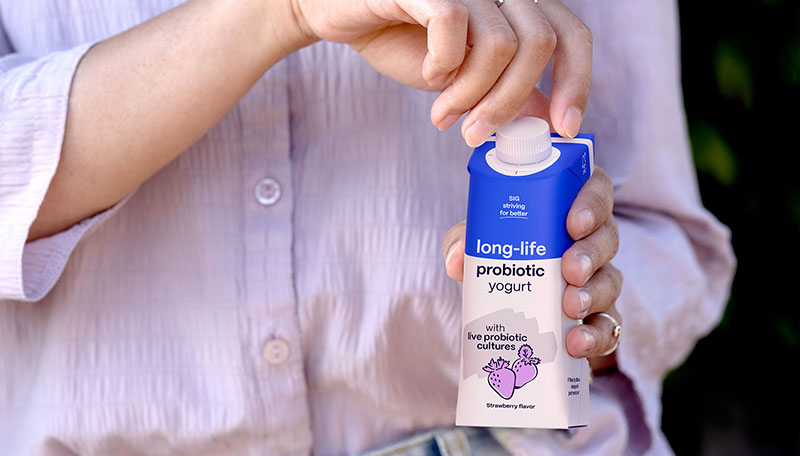 SIG and AnaBio Technologies have teamed up on the global launch of a long-life probiotic yoghurt.
The product has been described as a 'major breakthrough' for probiotic beverages and aseptic packaging.
The development creates a new product category; probiotic beverages packed in aseptic carton packs and spouted pouches which are 'shelf-stable' for prolonged storage periods without refrigeration.
SIG explained that, until now, it has not been possible to incorporate probiotics into aseptic beverage packaging due to their inability to survive common heat treatments used in processing. Probiotics can also be unstable during storage, typically restricting their use to refrigerated beverages with a short shelf-life.
The combination of AnaBio's encapsulation technology and SIG's 'gentle' aseptic filling technology is said to have overcome these restrictions, enabling food and beverage companies to produce probiotic beverages containing live probiotics packed in carton packs and spouted pouches and can be kept at room temperature for extended periods without refrigeration.
Sinéad Bleiel, founder of AnaBio Technologies, said, "Our innovative patented 'encapsulation' technology coats probiotic cells, such as Lactobacillus strains, with a protective layer. This allows the strains to withstand high temperatures during processing.
"When the probiotic product is consumed, the coating is naturally broken down by digestive enzymes releasing the probiotic to colonise the small intestine and deliver their health benefits. Together with the expert team at SIG, we're not only able to offer consumers probiotic products with unique health benefits, but also a longer product shelf life for greater convenience. It's a real step-change innovation in the field of probiotic beverage products."
SIG has applied specific filling and processing parameters that are said to ensure a homogenous suspension of probiotic cells per pack. This, the firm explained, ensures the safe filling of probiotics into SIG's aseptic packaging solutions at 'highest quality levels'.
Christoph Wegener, chief markets officer at SIG, added, "With the creation of a new product category, both SIG and AnaBio are providing beverage and food manufacturers with a pioneering solution to overcome the current limitations of fresh probiotic beverages. Our innovation offers lower distribution costs as no refrigeration is required, longer shelf-life, increased reach and less food wastage for both retailers and consumers.
"Aseptic probiotic yoghurt drinks demonstrate our continuous drive to innovate to rapidly meet changing consumer needs, while offering high product quality and longer shelf life in sustainable packaging."