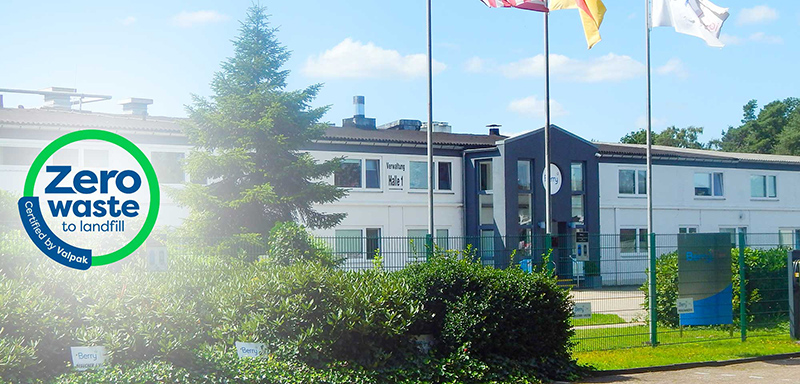 BERRY Global has announced that its manufacturing plant in Steinfeld, Germany has achieved Valpak's zero waste to landfill accreditation, making the site the third of Berry's European flexible films plants to achieve this recognition, alongside the facilities at Rhymney and Heanor in the UK.
The achievement is in line with Berry's sustainability goals and BMore Together initiative, both with a focus on mitigating the environmental impact of waste created within its direct operations. As part of the company's sustainability strategy, Berry has set a company-wide target of reducing landfill waste intensity by 5% year-over-year. In 2022, Berry revealed it exceeded its target with an overall reduction of 8% landfill waste intensity.
The Steinfeld operation produces industrial packaging, including Form Fill Seal (FFS) primary packaging for the chemical industry and shrink hood and advanced stretch hoods for transport and pallet protection that are widely used in industries such as the building and glass sectors. The site also produces printed sheet packaging solutions for beverages and the peat and wood processing industry.
Steinfeld's zero waste to landfill activities focus on reducing the waste generated across the entire site, as well as implementing programmes to re-use waste. Continuous improvement projects Steinfeld has been working on include an initiative which the firm said has reduced the amount of scrap generated during the production process and ensured any remaining waste material is re-used.
Steinfeld's on-site recycling centre reprocesses post-consumer single variety film waste into regranulate for use in new packaging products. The centre has two recycling lines, one of which is Berry's Norec de-inking process that de-contaminates and recycles post-consumer coloured PE films. Steinfeld also has its own cogeneration plant that undertakes the disposal of solvent-bearing exhaust air and supplies the site with self-generated electrical power and thermal energy.
Nande Van Aken, site director at Berry in Steinfeld, said, "Reducing waste is critical to efficient production and a key part of Berry's ongoing sustainability strategy. We are delighted to receive the zero waste to landfill recognition from Valpak and will continue our programme of continuous improvement to identify new ways to not only have no waste to landfill but also reduce the impact of waste on the environment in general."