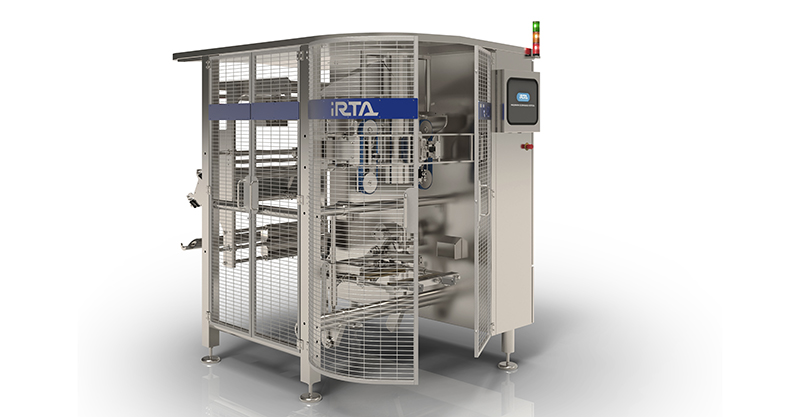 UK packaging specialist Xact has announced plans to expand into new markets with multiformat packaging machines supplied by Spanish packaging technology innovator IRTA Group Packaging under a new partnership to help brands and retailers 'future-proof' their processes.
The two businesses have teamed up to bring two new vertical form fill sealing machines (VFFS) to the UK for the first time, capable of handling different packaging sizes, formats and materials.
The IRTA VX STB DOY is a multiformat bag packaging machine, which can create the five most common, vertical pack shapes: Doy, pillow, envelope, block bottom, plus four and five seals. It can handle up to 100 bags per minute and is said to be adaptable to any product type, making it 'perfect' for contract packers who need the ability to switch rapidly between products and packaging types.
The IRTA TR, meanwhile, is a vertical multiformat unit developed with frozen food in mind. Handling up to 150 packs per minute and 100% washable, it can be utilised for everything from frozen fruit and vegetables to meat and fish.
Xact said both machines boast the ability to work with different packaging materials from heat sealable paper to PE and recyclable/recycled materials, while using less material than more common HFFS (horizontal form fill) machines that are typically used for volume production.
Paul Bennion, Xact director, said, "The UK market is increasingly competitive, meaning retailers have ever-changing demands in terms of products and packaging formats. The two new IRTA machines offer extensive functionality and flexibility to help businesses future-proof packaging production to meet those requirements.
"Xact has been the leader in net packaging for the fresh produce market for the past 30 years and these two innovative packaging machines not only allow us to expand, but also meet the diverse needs of businesses catering to very different requirements from their customers.
"We're looking particularly to the nuts, dried fruit and snacks market, frozen food and contract packaging companies that need the ability to easily switch between product lines. Our partnership with IRTA to supply these two new machines, enables us to do that."
Raquel Hidalgo, IRTA Group Packaging's international sales and distributor networking manager, added, "IRTA is going through an ambitious expansion process. We have supplied different machines in the past to the UK for the ice industry and now we need to consolidate our presence in the UK food industry. To do that we wanted to partner with a reputable UK company with good market knowledge, which is why we chose Xact."