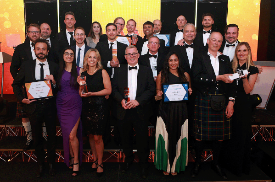 THE winners of this year's Medilink UK Healthcare Business Awards have been announced at a ceremony in Birmingham.
Over 200 people gathered at the sold-out event at the National Conference Centre Birmingham, hosted by JJ Chalmers.
The awards celebrated outstanding achievements and contributions to life sciences, with 12 winners in total announced, alongside 12 projects and organisations who received highly commended recognition.
The seven Medilink UK winners were chosen from a shortlist comprised of winners from each of the regional Medilink awards.
The Med-Tech Innovation award winners were chosen by an independent judging panel, who represent key stakeholders from across the supply chain. The panel was tasked with assessing each entry in five categories on the merit of their contribution to the medical device engineering supply chain.
Held after the first day at Med-Tech Innovation Expo, guests enjoyed a three-course, black-tie dinner, drinks and entertainment.
Bill Cruise, chairman, Medilink UK, said, "The Medilink UK Awards have once again been a tremendous success, and I offer my congratulations to all of the award winners, highly commended and finalists. There has been a wonderful energy in the room, and it's been great to see so many people from across the country coming together again to celebrate the exceptional achievements and contributions to the life sciences sector.
"Our host, JJ Chalmers, speaking on his personal connection to the life-changing work of our finalists, really brought home the importance of innovation within our sector. As a national industry support organisation, Medilink UK is pleased to work with our companies, adding value by helping them, and the life science sector as a whole, to grow, both nationally and internationally. We are proud to be contributing to their success, and I am confident that each of the companies who are here tonight will go on to do amazing things."
Duncan Wood, CEO of Rapid News Group, "What a fantastic night of celebration, we couldn't have asked for a better host than JJ Chalmers, whose inspirational speech and charisma helped to make the night such a success! We are proud to have partnered with Medilink UK once again to help celebrate these incredible achievements made in the life sciences and medical technology industries, a huge congratulations to all of tonight's winners, runners up and finalists!"
Winners and highly commended entries from each category were as follows:
Medilink UK Categories
Advances in Digital Healthcare Award
Winner: XR Therapeutics
Highly Commended: Evergreen Life (Penguin)
Delivering Innovation in Health and Care Award
Winner: Definition Health
Highly Commended: Llusern Scientific
Export Achievement Award
Winner: SEDA Pharmaceutical
Highly Commended: Paxman
Innovation Award
Winner: Synopsis
Highly Commended: MolEndoTech Ltd
Outstanding Achievement Award
Winner: Creo Medical
Highly Commended: EthOss Regeneration Ltd
Partnership between Academia and Business
Winner: Neuronostics and Peninsula Medical School, University of Plymouth
Highly Commended: NuVision Biotherapies and College of Health and Life Sciences, Optometry & Vision Science Research Group (OVSRG), Aston University
Start Up Award
Winner: MetalloBio
Highly Commended: Copner Biotech Ltd
Med-Tech innovation categories
The 3D Printing Award
Winner: Boston Micro Fabrication, in partnership with IMcoMET
Highly Commended: Bond3D
Connected Health Award
Winner: CIONIC
Highly Commended: Boston Scientific
Design Award
Winner: ASPIVIX
Highly Commended: Pd-m International
Materials Innovation Award
Winner: FLEXcon
Highly Commended: OGM Medical
Sustainability Award
Winner: SageTech Medical + Hymid Multi-Shot Ltd, SID-Solutions sustainable anaesthesia
Highly Commended: Airway Medical