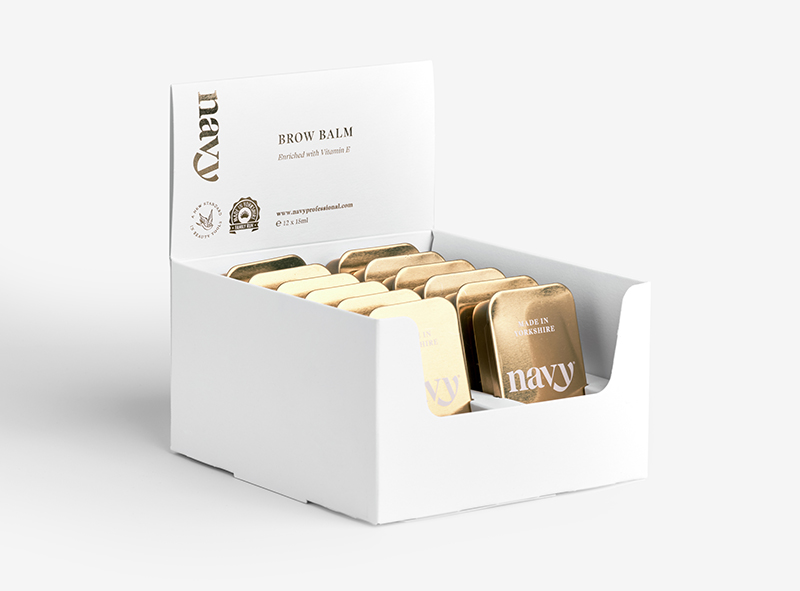 CARTON manufacturer Falconer Print & Packaging has worked with Navy Professional to produce a range of packaging for its award-winning beauty tools, candles, diffusers and skincare range.
The packaging, which includes secondary cartons and countertop display units, features the same material and finish throughout – white cartonboard with branding and lettering in gold foil to provide 'maximum shelf presence'.
Navy Professional's association with fellow Yorkshire business, Falconer, began in 2020 as the company's founder sought a packaging partner. Since then, Falconer has supported the firm with packaging concepts and ideas for new products as the product portfolio has expanded.
"We've worked with Falconer for over three years now, and they supply us with all our packaging," said Navy's owner and director, Rebecca Crawforth. "We love the finish of the product packaging, which always blows us away; we also appreciate how they always work hard to find the best material that keeps the packaging premium but also eco-friendly. Their customer service, attention to detail and account management are second to none."
Falconer's Colin Pow added, "We really enjoy working with Rebecca and the team at Navy. Since working with them, I'd like to think that we have taken their packaging to a new level. Our cartons are visually impactful and simplistic, yet some counter display units are more complex and unique.
"We work hard to make them easy to assemble and have an appealing shelf presence. We look forward to our continuing relationship."