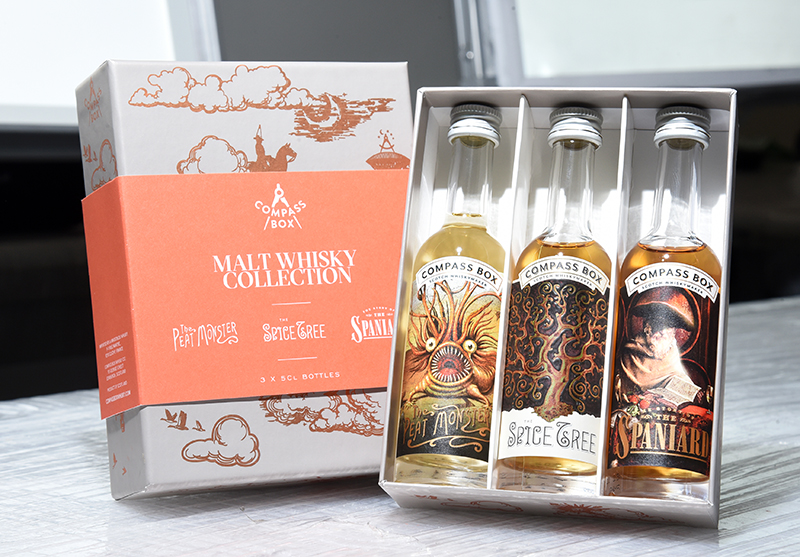 PROMOTIONAL FEATURE
QAS Group, a leading independent supply chain provider for the whisky and spirits industry, lived up to its 'Always do more' strapline on a recent challenging project for Compass Box Whisky.
The relationship between the two flourishing and ambitious businesses started last year and has developed into one of mutual trust and confidence.
QAS, which operates from sites in Linwood and Kirkcaldy, is a provider of a wide range of services from bottling and bonded rework through to contract packing and case & carton assembly. Compass Box Whisky is a renowned producer and bottler of Scottish blends, established in 2000. Caelum Capital acquired a majority stake in Compass Box last year and the business is currently going through a period of significant investment.
To date, QAS has completed bonded rework for Compass from its site in Linwood, Renfrewshire, and bottled and packaged three 5cl miniature blends into an eye-catching gift pack to be sold around the world as an important part of the company's portfolio.
After receiving the whisky for blending, QAS was tasked with ensuring the blend was accurate and preparing samples for Compass, which were quickly approved. However, an unexpected challenge arose when it came to bottling the product. QAS found it was getting a number of damaged filling heads, potentially affecting productivity and efficiency as well as putting orders at risk. Some of the filling heads didn't fit the glass bottles provided by Compass. After ruling out machinery issues, QAS explored a number of different possibilities before discovering that the bores on the neck of the bottle weren't all the same. Some were slightly more enclosed than others, resulting in the filling heads being unable to go in properly.
Thanks to the speedy diagnosis of the problem, the matter was swiftly remedied, and the overall project outcome was wholly positive, with all gift packs bottled, packed, and delivered within the desired timeframe and very much to the client's satisfaction.
Following the success of that project, QAS and Compass will team up again for a task involving bottling and packing larger 70cl and 75cl bottles. Compass has invested in the change parts required, with trials scheduled for late April.
Major investments made by QAS in recent years – including vatting, blending and bottling machinery – align perfectly with Compass' own future developments, opening up the prospect of a long and fruitful partnership between the two businesses.
QAS is exploring further opportunities with Compass, emphasising the group's determination to be reactive to customer requirements and provide an effective one-stop-shop offering.
Derek Page, director at QAS, said, "The growth trajectory of Compass Box appears to be in line with ours. There are many synergies between the two companies. We're both like-minded and there's a willingness for both parties to get it right. Their success will contribute to success for us and vice versa."
Matt de Moraes, operations director, Compass Box Whisky, added, "We are excited to be working alongside QAS in a period of increased growth for both our businesses. We are confident that together we can push to do more, creating and improving our current bottling processes, while continuing to create truly exceptional products."