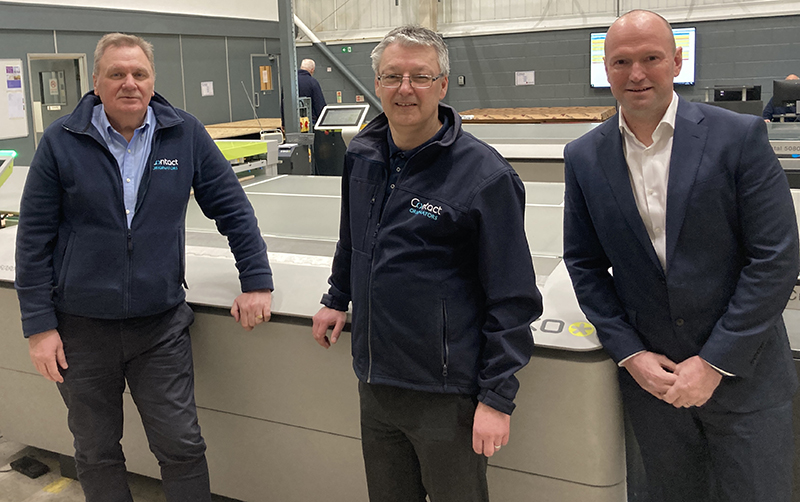 FLEXOGRAPHIC plates manufacturer Contact Originators has invested in a third Esko CDI Crystal XPS imager and exposure solution.
The firm explained the move is designed to support its move into the flexible packaging and label markets.
The purchase takes Contact's investment in its 32,500 sq ft site in Dukinfield, Manchester, to over £5 million since moving to the facility in March 2021. The company added that it means it has become the first in the EMEA region to house three of the machines on one site.
CEO Steve Mulcahy said, "This investment underpins our business growth and development for 2023 and beyond. We believe it's critical for the future of platemaking and provides greater capacity for us as we begin to gain market share in the flexibles and label markets and back up to our already established corrugated business.
"After a period of rebuilding and installing industry-leading and unique equipment, we are now in phase two of our growth strategy. After seeing an influx of new customers this year across all flexo print disciplines, including wide web flexibles, further investment makes complete commercial sense.
"This new CDI Crystal XPS represents the start of a new era at Contact. We always have one eye on the future and we are excited to be bringing best-in-class technologies and expertise to the flexibles and label arenas."
The CDI Crystal XPS will be installed in a dedicated HD production hall for flexible packaging and label plates.
Operations director Nick Mitchell added, "We are setting the standard for screening technology with the CDI Crystal XPS. As a long-standing Beta testing partner for Esko, it enables us to exploit future screening developments, continue to be early adopters and ensure we stay ahead of the market.
"With two CDI Crystal XPS' already in place, the solution has already proven itself as setting the standard in flexo platemaking. The equipment fully integrates into our existing workflows; it's a 'plug and play' solution that provides the business with even greater security of production as we grow, while enabling us to offer customers more flexibility too."
Contact said the CDI Crystal reduces manual steps and operator intervention, as well as reducing errors, meaning less plate waste. With UV main and back exposure, the machines uses LEDs which require no warm-up time and emit even light to ensure consistent plate quality.
James Mason, Esko regional business director, said, "Adding a third line of CDI Crystal XPS plate imaging and exposure hardware to an already impressive setup now enables Contact Originators to both diversify its offering and increase its productivity while ensuring the quality of the plate and resultant print quality. We are proud to be a part of this ongoing, exciting period for Steve and the team as they continue to develop, and we look forward to continuing our relationship for many years to come."