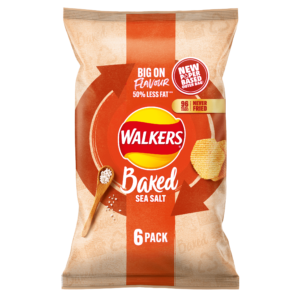 WALKERS has partnered with Tesco to trial paper-based outer packaging on multipacks of its Baked range of crisps.
PepsiCo, owner of Walkers, said the trial packs are 'widely' recyclable and will replace plastic outer wrapping on more than 300,000 six-pack multipacks of Walkers Baked in sea salt and cheese and onion flavours.
The new packs will be available at 800 Tesco stores across the UK, with PepsiCo asking shoppers for their feedback on the new design and its functionality. It is the second time in recent months the firm has partnered with Tesco to launch a sustainable packaging trial, with it piloting new cardboard outer packaging for its 22 and 24-pack multipacks.
Rachael Smith, senior marketing manager at Walkers, said, "With this latest trial, people can buy a selection of Walkers Baked multipacks in paper-based outer packaging that can be easily and widely recycled with regular recycling at home. Feedback is so important in helping us deliver the best possible experience for consumers, and we can't wait to hear people's thoughts when the packs land in stores."
Gareth Callan, packaging sustainability lead at PepsiCo UK and Ireland, added, "We're always exploring new packaging solutions that can help us reduce virgin fossil plastic use, in pursuit of our broader sustainable packaging goals. After more than two years in development, we're looking forward to testing this paper-based outer material with our consumers to better assess the role it could play in our future packaging portfolio."