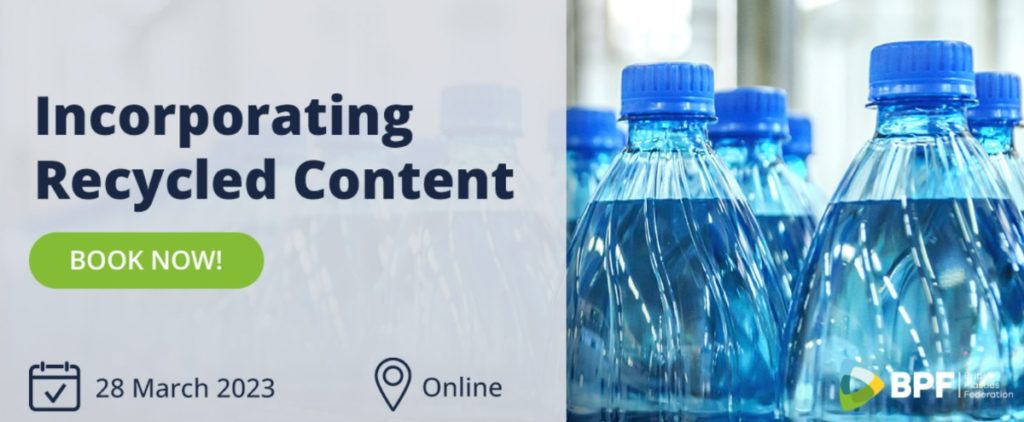 THE 2023 British Plastics Federation's (BPF) online seminar The Challenges of Incorporating Recycled Content in Plastics Packaging will take place on Tuesday March 28.
Since launching two years ago, the BPF said the event has become one of the most popular in the organisation's calendar, attracting hundreds of delegates.
The event will be chaired by BPF director of plastics and flexible packaging Brian Lodge, who said, "The popularity of this event is really no surprise given the various environmental, legal, technical and commercial implications. The whole packaging supply chain has a stake in these issues and understanding the current legislative landscape and pertinent innovations is clearly very valuable to a wide range of companies."
In the first session of the event, wrap sector specialist – packaging Jonathan Moore will provide a presentation on 'Progress Against Target 4 of the UK Plastics Pact'. He will be followed by European Plastic Convertors (EuPC) senior legal and regulatory affairs manager Silvia Freni Sterrantino, who will provide a legislative update from Europe.
S&P global associate editor, recycled polyethylene Iris Poon will provide an overview of the availability of recycled content feedstock, before the next two speakers —The University of Manchester's director of ReCon2 and the Sustainable Materials Innovation Hub Dr Thomas Bennett and the University of Liverpool's reader in Ccemistry Dr Thomas McDonald — give an update on their respective projects on recycled content.
Following a panel discussion on measurement and verification issues, PREP design director Anthony Payton will explain the soft plastic recycling schemes coming from Australia and what the UK can learn. Professor Ed Kosier, CEO and founder of Nextek and NEXTLOOPP, will then discuss developments in polypropylene (PP) recycling for food contact applications.
Attendees will also have access to three pre-recorded sessions. Wells Plastics technical manager Dr Gary Ogden presents on 'Demonstrating the Development of Novel Anti-oxidant Additive Masterbatch Technology'. Avient Corporation regional sales manager Mark Seddon explores 'Innovative Projects Covered by ColorMatrix to Increase the Amount of Recycled Content in Their Packaging'. And Microban product development engineer Dr Olga Hoy hosts a session on 'Redefining Recyclability: How Antimicrobial Technologies Can Increase the Reusability of Post-industrial and Post-consumer Recyclates.'
To book your ticket, visit: bpf.co.uk/incorporating