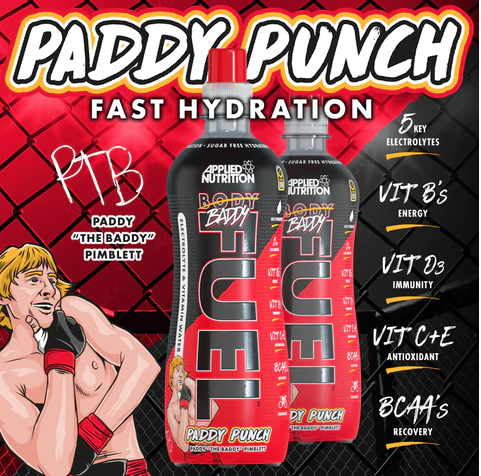 APPLIED Nutrition has unveiled a new addition to its Body Fuel sports drink range in packaging dedicated to UFC star Paddy 'The Baddy' Pimblett.
The new sugar-free tropical punch flavour, dubbed Paddy Punch, is emblazoned with a cartoon version of the Scouser's famous pose as well as a 'highly distinctive' black and red pack design.
Known for his cheekiness in pre-fight build-ups, the drink's packaging also has 'Body' scored out in 'Body Fuel' and instead has been replaced with 'Baddy' as a nod to the former Cage Warriors Featherweight Champion's nickname, Paddy the Baddy.
Paddy Punch is the first variation of the drink to be created alongside one of Applied Nutrition's ambassadors, with the brand revealing that it has 'exciting' plans for more 'unique' flavour partnerships in the coming months.
Paddy Pimblett, who has won all four of his UFC fights in the Lightweight Division, said, "Working together with Applied Nutrition on Paddy Punch has been a top experience for me. We tested so many flavour combinations and we think we have ended up with one that people are going to love.
"It tastes unreal! And I'm made up to put my name on such an amazing drink."
The drink contains 665mg of electrolytes in levels that Applied Nutrition said are the 'optimum ratio' needed to aid muscle function and rehydration. It contains five calories, anti-oxidant vitamins C&E, vitamin D and zinc, as well as a full panel of B-vitamins and 250mg of BCAAs.