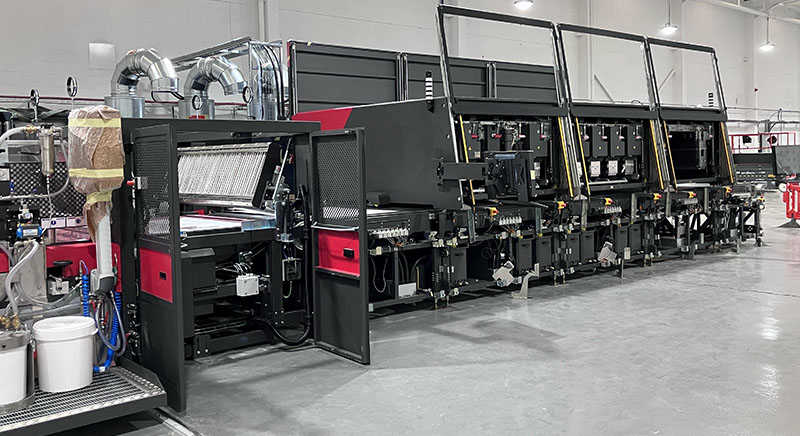 DS Smith has revealed plans to advance its high-end 3D corrugated display capabilities at the company's facility in Ely, Cambridgeshire.
The firm has invested in a seven-colour Nozomi C18000 Plus. The printer, supplied by Electronics For Imaging (EFI), has been tipped to unlock new opportunities for point-of-sale, retail marketing and e-commerce customers.
DS Smith said the Nozomi C18000 Plus prints directly onto board at fast speeds and is designed to deliver 'superior quality and productivity'. As a digital press, it is not restricted by minimum order quantities, offering customers a more sustainable option with less waste.
"EFI Nozomi technology has played an important role in helping more CPG and FMCG brands stand out with timely, efficient and effective premium packaging," explained Sarah Bell, MD at DS Smith UK Retail Marketing. "Now that the printer is coming to our Ely corrugated display production facility, our customers will gain much more versatility, with the ability to quickly and affordably produce high-end, customised displays featuring targeted promotions or designs."
The printer features inspection system technology that is said to allow for 'rapid' identification and correction of inkjet nozzle issues or other defects. The printer includes seven colours – CMYK plus orange, violet and white inks – a configuration that will give DS Smith the ability to match up 97% of Pantone colours.
Evandro Matteucci, VP and general manager, packaging and building materials, at EFI, added, "High-speed, single-pass inkjet digital printing with EFI Nozomi technology helps industry leaders like DS Smith address brands' evolving needs for lower waste, better efficiency, and more relevant, targeted content in high-graphics packaging and displays."
DS Smith currently operates an EFI Nozomi C18000 Plus printer at its facility in Lisbon, Portugal where it has reportedly reduced delivery times for customers while providing 'near-offset quality' in e-commerce packaging, shelf-ready packaging and other applications.