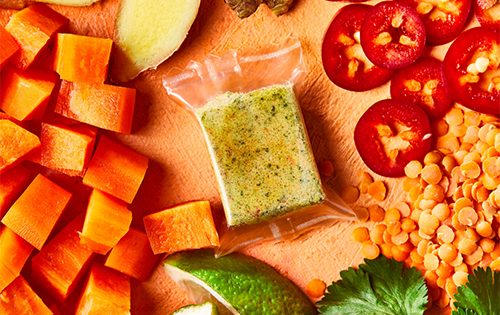 XAMPLA and meal kit retailer Gousto have won the SEAL Business Sustainability Awards 'Sustainable Innovation Award' following the launch of what has been described as the world's first edible stock cube wrapper made from pea protein.
Both cookable and edible, this product launch allows consumers to eat their product packaging.
Xampla revealed that the first meal box featuring the firm's material sold out in under an hour.
The SEAL Sustainable Innovation Award celebrates innovations that represent 'game-changing' ideas to create a more sustainable future. Other winners of the SEAL Business Sustainability Awards range from global brands such as Disneyland, General Electric, GM, Microsoft, Oracle, Proctor & Gamble, and Samsung to high-growth start-ups and scale-ups.
Xampla has also been shortlisted as a finalist in Just Drinks Excellence Awards. Working with Britvic, Xampla brought its Vitamin D microcapsules to market, offering a 'superior' way of fortifying vitamins in beverage products. The solution has been recognised in Just Drink's Innovation category.
Xampla said its plant protein material is a natural alternative to the world's most polluting plastics, as well as hidden microplastics within liquids and lotions. The solution can replace synthetic materials in existing manufacturing processes and will feature in new product launches in 2023 as part of the company's scale-up strategy.
Pete Hutton, executive chair of Xampla, said, "This year has been an incredibly successful one for Xampla and we are proud that our work with both Gousto and Britvic has been recognised in these prestigious awards. Xampla is committed to pioneering replacements for the most polluting plastics through our high performance natural materials.
"Congratulations to all the teams involved, and we look forward to driving forwards our scale-up strategy in 2023 with new product launches and brand partnerships."