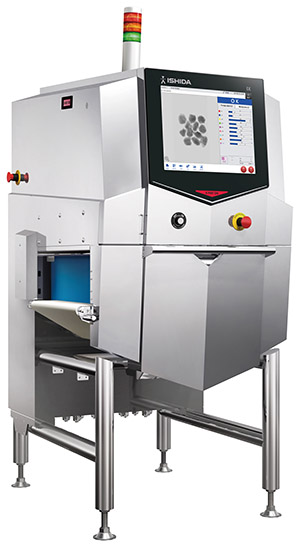 ISHIDA is launching a new X-ray inspection system that incorporates new sensor and image processing technology to achieve what the manufacturer called the 'highest level' of detection sensitivity.
The IX-PD can detect both low-density and very small size foreign bodies with 'excellent accuracy', Ishida revealed, whilst allowing manufacturers to maintain 'high productivity rates'.
Combined with Ishida's Genetic Algorithm (GA) and Dual Energy technologies, the new machine is said to produce an ultra-high resolution and clearer image than conventional X-ray systems. This allows the IX-PD to offer enhanced detection for low-density items such as bones in fish fillets and also minute foreign bodies such as stainless steel wires.
The model can also detect foreign bodies in applications where products are overlapping or standing up in a pack.
In tests, Ishida stated that the IX-PD demonstrated 'near 100%' detection rates for bones in a variety of products including chicken, diced meat and sausages. The performance enhancement of the system has been designed for high-volume production lines and where there is a tendency of overlap in densely packed food products, which makes fine contaminants difficult to detect.
"We understand the importance that businesses today place on quality and the rigorous standards that they employ throughout their operations; however, even the smallest error can have serious consequences for a company's or brand's image, particularly in today's social media world," said Sibtain Naqvi, Ishida Europe's X-ray product manager. "This was the driving force behind the development of our new IX-PD, which represents a real step-change in X-ray inspection systems. Its new technology delivers the best ever sensitivity to give manufacturers complete confidence in the effectiveness of their quality control procedures."
Direct Conversion technology enables the X-rays to be directly converted to electrons rather than through a photodiode. Ishida explained that removing one of the stages in the inspection process increases the energy efficiency of the IX-PD.  Maximum output for the system is 300W, while tube voltage is between 25 and 75kv, with Ishida's GA self-learning technology adapting this to the requirement of the foreign bodies to be detected.
The IX-PD will be available in two sizes. Ishida said the options of 360mm and 450mm width allows flexibility of application detection from unpackaged meat products to boxed food applications where products are overlapped. Both offer compact dimensions for 'easy integration' into packing lines. An IP66 waterproof construction provides full washdown protection.
The IX-PD also has the ability to carry out other quality control functions including weight estimation and identifying damaged product or packaging or missing items.
"The launch of the IX-PD marks another milestone in Ishida's X-ray technology development," Sibtain Naqvi added. "Its high accuracy detection of the most challenging products and foreign bodies provides complete peace of mind for food manufacturers."