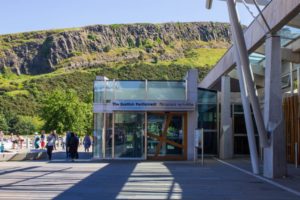 THE Scottish Government is to longer support the build of incineration facilities in the country.
It comes after circular economy minister, Lorna Slater, confirmed in a ministerial statement that the Scottish Government will be accepting all 12 recommendations of an independent review on the role of incineration in Scotland.
Authored by waste expert, Dr Colin Church, the document recommended that no further planning permission for incineration facilities be granted. The Scottish Government said that new national planning policy will 'make clear' that it does not support the development of further municipal waste incineration capacity in Scotland, with 'very limited' exceptions.
In the meantime, notification direction will remain in place, requiring local authorities to alert Scottish ministers of new planning applications that involve incineration facilities. A similar notification direction was used previously, and 'successfully', to give the effect of a moratorium on unconventional oil and gas.
The other recommendations are that the Scottish Government should 'rapidly' seek further reductions in the proportion of recyclable materials in the residual waste stream, and that it should develop better waste management data, especially around the composition of all types of waste and arisings and fate of commercial and industrial waste, as well as boosting its capacity to model future trends across the whole resource and waste management system.
Further to this is that industry, local authorities, and the Scottish Government make more data around waste in general; an indicative cap be developed that declines over time for the amount of residual waste treatment needed as Scotland transitions towards a fully circular economy; when negotiating contracts for residual waste management treatment, local authorities should 'specifically' address the risks of lock-in and ensure those contracts are aligned with meeting Scotland's current and future targets.
The report also states that the most 'feasible' treatment options to manage Scotland's residual waste are incineration, landfill and export of waste. It recommends that the Scottish Government should work with local authorities to ensure they have a solution to manage their residual waste in 2025 based on this.
It continues by recommending 'adequate' time and resource is dedicated to local and community engagement on the topic; operators of all residual waste treatment facilities should also work to 'significantly' strengthen community engagement and trust before, during and after development.
Recommendation 10 states that the Scottish Government should 'urgently' work with local authorities in remote and rural areas of Scotland without a settled residual waste management solution to meet the ban to explore options that might, if fully justified, lead to the creation of a small amount of additional capacity.
The report also recommends that the Scottish Government and local authorities work with industry to develop a strategic approach to planning and deploying waste collection, reprocessing and management facilities by the end of 2023, which takes account of the key issues; and that the Scottish Government should report greenhouse gas emissions from incineration separately from other energy-related emissions as soon as possible, ideally from the 2021 data onwards.
Circular economy minister, Lorna Slater, said, "Reducing waste and recycling what we do produce is key to tackling the twin crises of climate change and biodiversity and ensuring we all enjoy a healthy environment. That's why we are taking action to create a circular economy, in which materials are kept in use for as long as possible and precious natural resources are not wasted.
"We also need to make sure we manage unavoidable and un-recyclable waste in the short term. By putting in place sensible measures to limit and gradually reduce Scotland's incineration capacity, we can make sure we can manage our waste today, while ensuring our future waste infrastructure aligns with our climate targets.
"I look forward to working with local authorities and industry to take forward these recommendations."