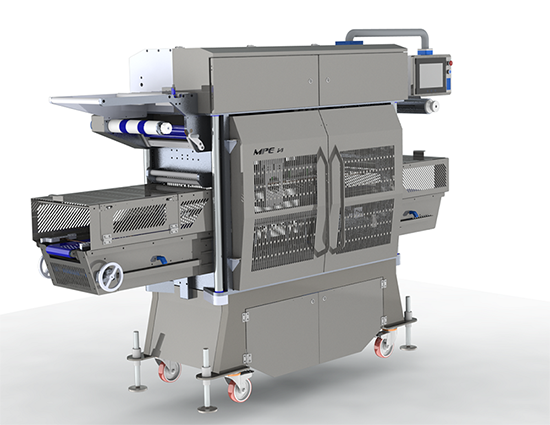 FOLLOWING the launch of its i3 tray sealer, MPE UK has announced the roll out of an 'even more compact and versatile' machine for food processors.
Designed to replace the i2, the MPE i4 has the same characteristics of its predecessors but with 'significant' upgrades, the firm revealed.
Suitable for applications such as fresh produce, ready meals and red meats, the fully automatic and all-electric MPE i4 boasts features including the ability to be quickly expanded or upsized with the same components as its 'big sister' machine, the i3.
Sealing up to 80 packs per minute – and capable of running large format trays – MPE added that it has tapped into its heat-sealing experience to provide another machine which is 'simple, reliable and efficient' to operate, while its 'small footprint design' saves factory space.
Features include a self-intuitive user interface, self-diagnostics, rogue object detection, tracking tray spacing technology, and Al temperature control system for thin packaging. The programming constantly monitors performance and displays any issues to the user along with a solution.
Developed and manufactured in the UK, the i4 can be bespoke to a customer's requirements. MPE's technical director, John Hodgkiss, said, "MPE is committed to producing equipment designed to deliver performance and longevity – and that's also easy to maintain and extend. Our design team is very flexible and quick off the mark in bringing great ideas through to the end product.
"The need for speed and accuracy is driving automation and innovation in the food industry, so we continually strive to provide exactly what our customers need to stay ahead of their competition and meet their own customers' demands, as effectively and efficiently as possible."