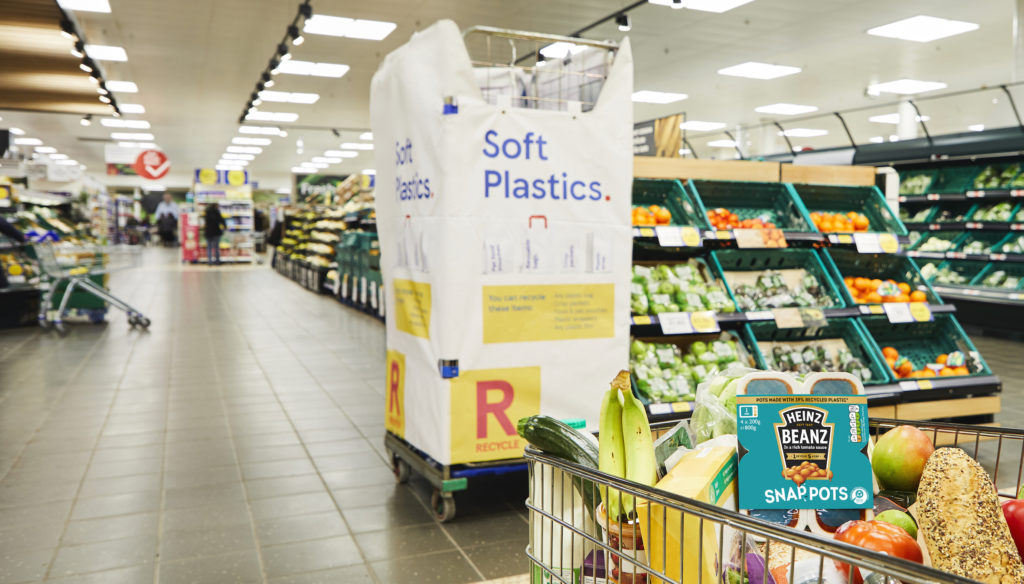 HEINZ and Tesco have teamed up with a range of specialist partners on a new trial which they hope will inspire the wider industry to help tackle the lack of soft plastic waste being recycled in the UK.
Heinz and its partners – Plastic Energy, SABIC and Berry Global – have developed new Heinz Beanz Snap Pots which are made from 39% recycled soft plastic, collected from customers at Tesco's in-store collection points.
The pots were designed by Heinz's R&D team to be more sustainable while retaining their convenience, snappable format, microwaveability, and ability to ensure the product remains fresh.
They're produced through a five-step process:
Collect – Post-consumer soft plastic packaging which would otherwise be incinerated or taken to landfill is collected at Tesco stores nationwide
Convert – The packaging is then delivered to Plastic Energy, a specialist in advanced recycling technology, where it is converted using their TAC process into an oil feedstock
Transform – SABIC takes the recycled oil and uses it as alternative feedstock in the production process to manufacture virgin, food-contact approved polymer pellets
Create – Berry Global then applies its thermoforming capabilities to mould the food-contact approved polymer pellets made with 39% recycled plastics based on a mass-balance approach into new, post-consumer recyclable Snap Pots
Recycle – Finally, the completed Snap Pots are sent to Heinz to be filled with Beanz and delivered back to Tesco stores. Once used, the pots can be recycled as part of kerbside collections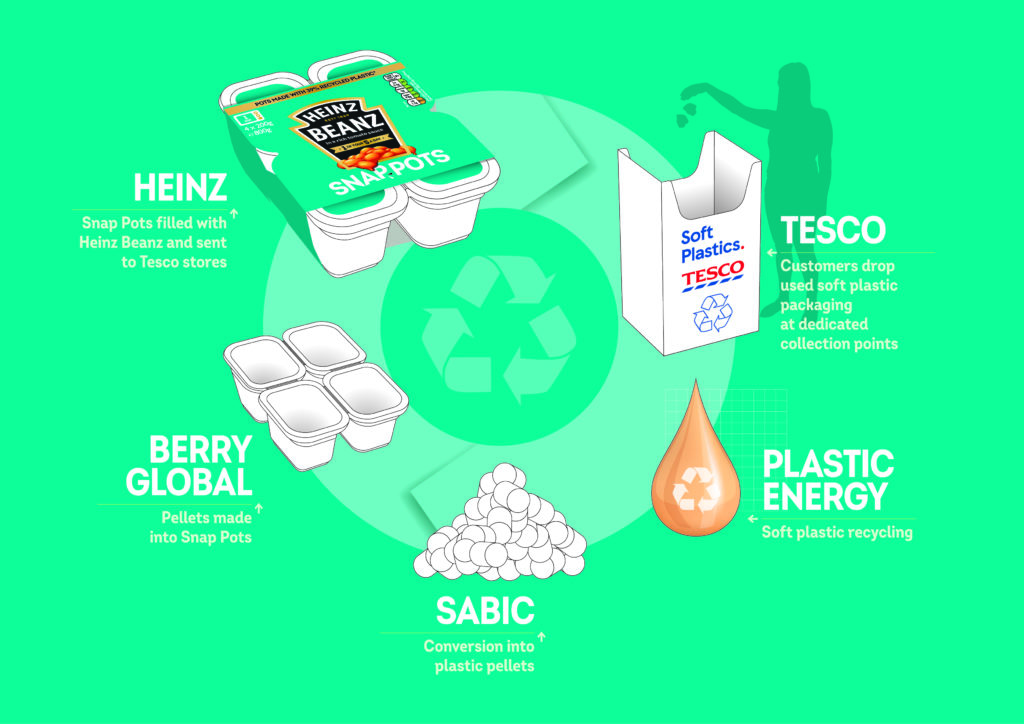 The recycled plastic used in the pots is certified by the ISCC. The 39% recycled plastic they contain was validated using the 'mass balance approach' endorsed by ISCC, which makes it possible to track the amount and sustainability characteristics of materials used in the manufacturing process.
Jojo de Noronha, president northern Europe at Heinz, said, "We're proud to have teamed up with leading experts to bring this important innovation to our customers. Our hope is that this prompts an industry-wide look at what more can be done to address the lack of soft plastics being recycled in the UK, and we can, as a collective, get better when it comes to developing new packaging solutions that are both good for both our consumers and for our planet."
Carlos Monreal, CEO of Plastic Energy, added, "We are excited to partner with Heinz, Tesco, SABIC and Berry Global on this value-chain collaboration which paves the way for enhanced sustainability in packaging. Using Plastic Energy's innovative advanced recycling technology, post-consumer plastic waste, which would otherwise be sent to landfill or incineration, can be converted into recycled oils, which are used as a replacement for fossil oils in the manufacturing of new plastics. This collaboration proves that through advanced recycling, more recycled plastic can be incorporated into packaging in the future, which benefits the circular economy."
Lada Kurelec, general manager PP, PET, PS, PVC, PU & elastomers businesses for petrochemicals at SABIC, commented, "We are happy to reaffirm our role as a provider of unique circular solutions. Beyond guidance in selecting the right material, we have brought value chain partners together and provided crucial elements such as support with certification processes or life-cycle assessment calculations, all while helping to prevent valuable used plastics from being lost to landfill or incineration."
Jean-Marc Galvez, president of Berry Global's consumer packaging international division, said, "This is a prime example of an innovative advancement in circular packaging design made possible by collaboration across the entire value chain. This type of circular approach helps capture and reuse plastics that currently go un-recycled to keep materials in use and out of our oceans and landfills."
Sarah Bradbury, Tesco's group quality director, added, "This innovative collaboration is one of the ways that soft plastic returned to stores by our customers will be recycled into new food-grade packaging. After doing everything we can to remove and reduce plastic, we want to develop circular recycling solutions like this so the materials we use stay in our packaging and out of the environment."