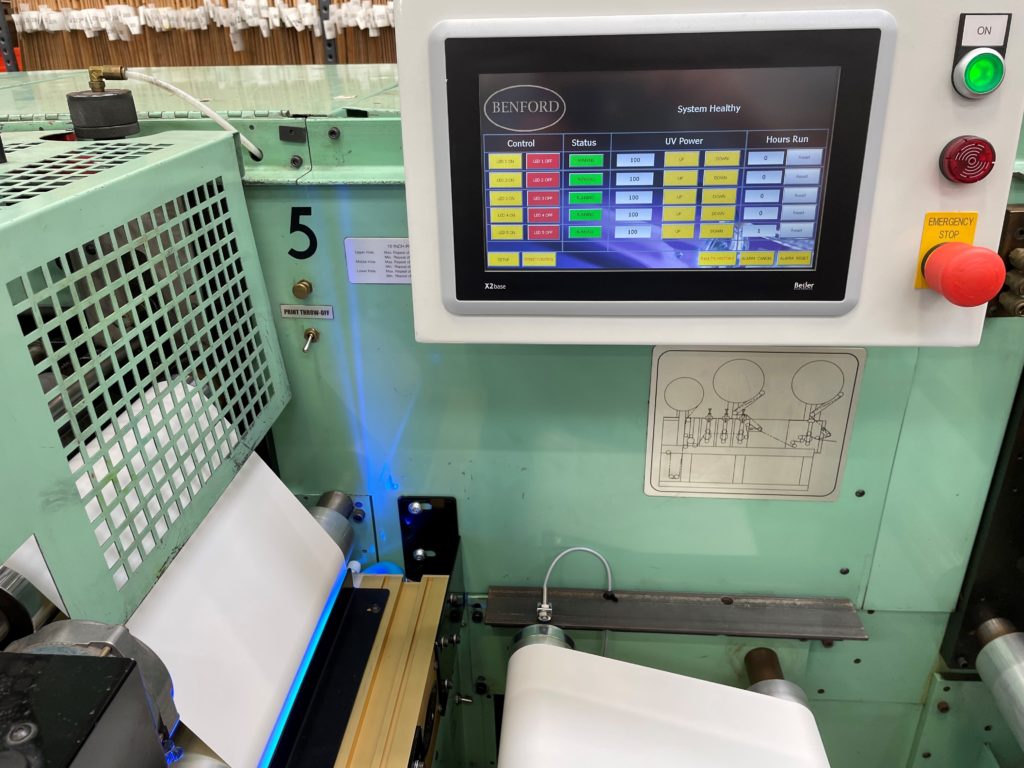 AZTEC Label has invested in its largest LED UV drying system as it continues to transition its entire facility to the technology by the end of the year.
MD Colin Le Gresley said the company is installing a second Benford LED UV curing system at its West Midlands HQ to further reduce power consumption, following the installation of its first LED UV system on a 2-colour press last year.
"Sustainability is truly becoming a key differentiator for businesses and a core demand from end customers," he explained. "We were quick to identify the importance of investing in the sustainability ethos a few years ago, installing 360 solar panels to generate electricity to power our facility and striving to increase efficiencies to drive down waste.
"The Benford system we installed in 2021 has already proven its performance excellence and helps the business reinforce our impressive sustainability credentials."
Colin added that the new Benford eco-LED UV machine delivers 'high value printing effects and sharp colours, for consistent print quality with no marking'.
"From a sustainability perspective, it consumes significantly less energy, more than 60% less than conventional UV drying," he said. "Coupled with the instant on-off, long life diodes and low heat emissions, it delivers the high performance levels our customers have come to expect while perfectly complementing our sustainability goals."
LED UV printing technology enables ink to dry instantly. The LED UV lamps can be switched on and off instantly as no cooling times are required.
Marc Boden, founder of Benford UV, commented, "Our specially designed LED UV lights dry inks and coatings instantly. Unlike conventional printing, LED UV also enables printers to print directly onto non-absorbent materials like plastics and the technology can be used in different industrial applications as it allows drying of materials like silicones, adhesives and resins in a fraction of a second.
"Our own commitment to sustainability means that we produce machines that significantly reduce energy consumption while delivering consistent, quality products to eliminate waste wherever possible. All the parts are British made, apart from the chips that are manufactured in the Far East, further adding to our sustainability credentials.
"We're delighted that the success of the first system at Aztec Label has led to this latest installation, and we look forward to working with Colin again as he continues the move to using LED UV dryers across his site."