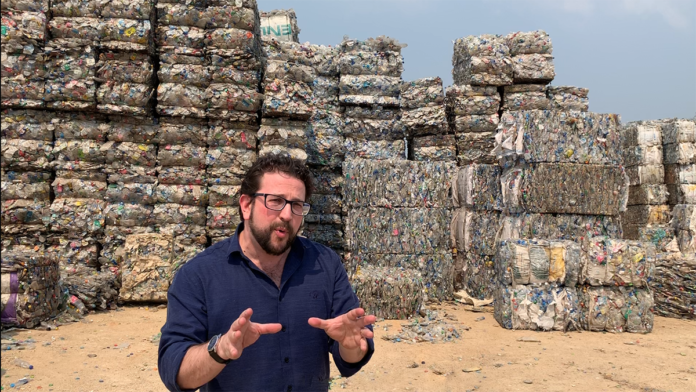 THE supplier of Prevented Ocean Plastics has called on Scottish businesses to join them in the fight against plastic waste.
Bantam Materials made the call after announcing that, together with Dumfries-based PET UK, they have stopped more than 100 million plastic bottles from ending up in the world's oceans and waterways.
PET UK is progressing recycled plastic technologies to directly address the problem and reduce the need for new virgin plastics, by turning the collected plastic into new packaging which Bantam said can be used in the 'majority' of household plastic products.
Raffi Schieir, director of Bantam Materials and the Prevented Ocean Plastic programme, said, "As one of the UK's leading plastic processors, PET UK is setting an example for the industry on how to incorporate safe, high-quality, recycled plastic into business models and is supporting much needed recycling infrastructures globally. PET UK's partnership with Prevented Ocean Plastic helps support a circular economy on plastic which is essential if we are to mitigate the climate crisis, protect marine life and support people working in materials collection in developing countries across the world."
John Currie, MD at PET UK, added, "We're thrilled to announce our partnership with Prevented Ocean Plastic, which will push us closer to our environmental goals. By using Prevented Ocean Plastic, we will help reduce the amount of plastic entering our oceans and harming our environment. At the same time we're reducing our use of new plastic which generates more carbon emissions than recycled plastic."
Prevented Ocean Plastic ambassador, Scottish Para Table Tennis Player, and member of the Scottish Business Network, Martin Perry, commended the partnership on its efforts towards helping drive a circular economy on plastic in Scotland.
He said, "It's fantastic to see Scottish businesses such as PET UK leading the way in the fight against plastic pollution. I am part of the Scottish Business Network and I see first-hand the power of business collaboration as a force for good and know that Scotland is already leading the way globally in a lot of areas.
"I would love to see Scotland solidifying its place as a world leader in recycled plastics – and alongside PET UK and Prevented Ocean Plastic, I'm calling on other Scottish businesses to help protect our planet by committing to use ocean-bound and recycled plastics."