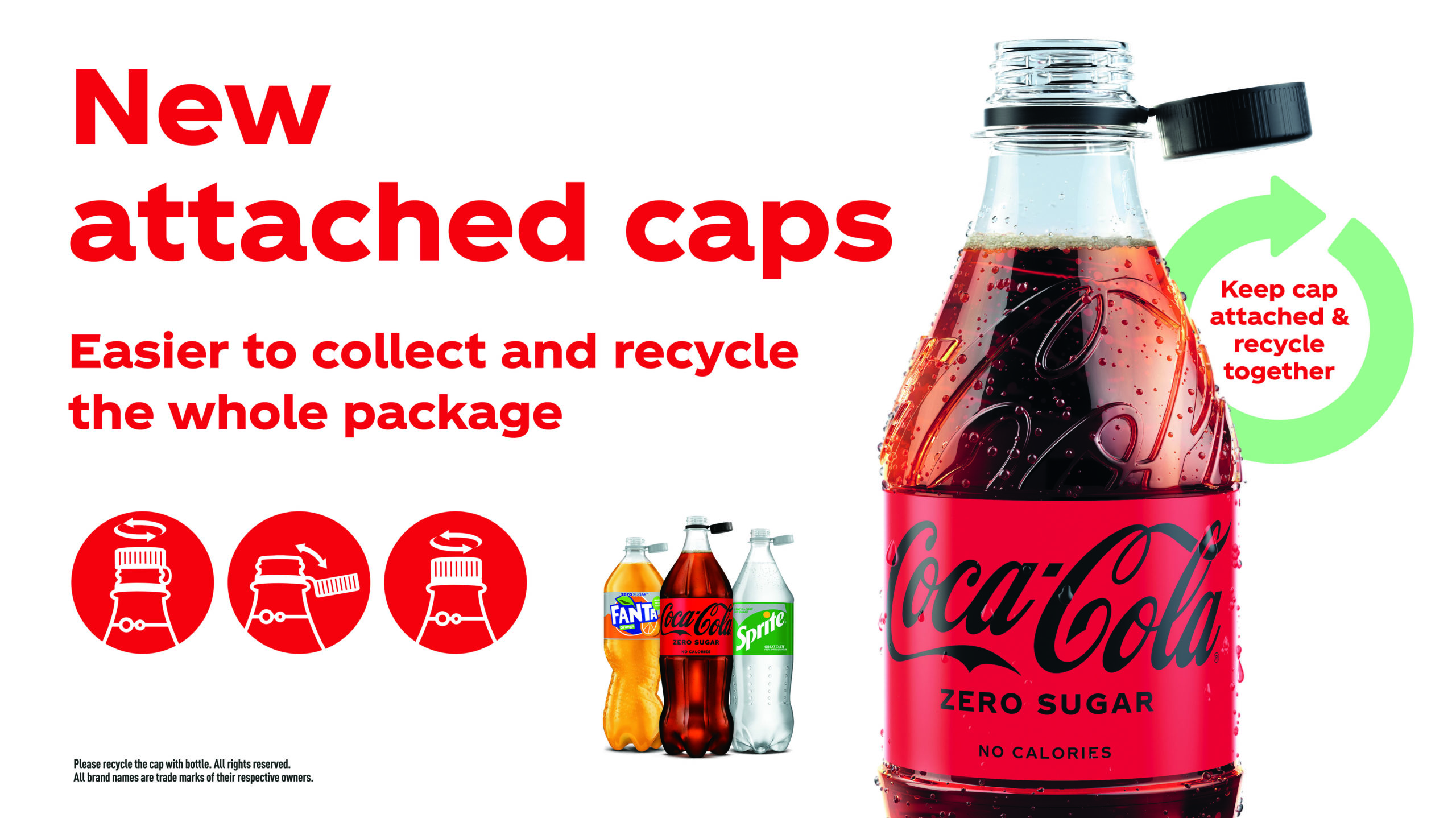 NEW attached bottle caps are to be produced in East Kilbride for use across Coca-Cola's range of soft drinks.
The company said that the new caps will make it easier to recycle the entire package, with caps 'often' discarded and littered despite being 100% recyclable.
It added that the new design means that the cap stays connected to the bottle after opening, so the whole plastic bottle and attached cap can be recycled together.
Production at the caps will initially begin from Coca-Cola European Partner's bottling plant in East Kilbride, which the company said will mean consumers in Scotland and north England will start to see the caps attached to their 1.5l bottles of Fanta, Coca-Cola Zero, and Diet Coke – with the switch to be completed for all plastic bottles by early 2024.
Stephen Moorhouse, general manager at Coca-Cola Europacific Partners, Great Britain, said, "This is a small change that we hope will have a big impact, ensuring that when consumers recycle our bottles, no cap gets left behind.
"The move is just one of the steps we're taking as part of our This is Forward sustainability action plan, which targets six key social and environmental areas where the business has a significant impact and forms a key element of our 2040 net zero target. It's also one of many steps we're taking towards our global commitment, in partnership with The Coca-Cola Company, to help collect and recycle a bottle or can for every one that we sell by 2025, on our journey towards a World Without Waste.
"As the world's largest independent bottler of Coca-Cola, we recognise that we have a leading role to play in pushing innovation and design to produce more high-quality recycled plastic which can be converted into new bottles.
"We are proud to be leading the industry in Great Britain, with production of the new attached caps to our plastic bottles first taking place right here in East Kilbride, following £32m in investment into the site since 2017."
Seamus Kerrigan, operations director at Coca-Cola Europacific Partners in East Kilbride, added, "We are very proud to be leading the way as the first site in GB to start production of plastic bottles with attached caps. The milestone follows significant investment in our production lines to prepare for this – and other manufacturing innovations – to produce some of the most loved, well-known global brands in the most sustainable way possible, from right here in East Kilbride.
"Last year saw the introduction of on-the-go bottles made from 100% recycled plastic, and the transition from plastic to paper straws on Capri-Sun, the largest children's juice drink brand, which is also produced here. This latest milestone is a huge achievement and I'm excited to see where we'll go next."
Jo Churchill, UK Government resources and waste minister, commented, "More businesses are finding innovative ways to tackle harmful plastic pollution and Coca-Cola's new design will make it easier for people to recycle and help reduce litter. The Government is committed to boosting recycling across the country with our new Environment Act creating a deposit return scheme for drinks containers, making manufacturers more responsible for their packaging, and putting in place consistent recycling collections."
Adam Herriott, sector specialist at WRAP, said, "This great move from Coca-Cola Great Britain supports the on-going work with the UK Plastics Pact in trying to ensure that as much plastic packaging is captured and recycled as possible. In 2020 we saw the amount of plastic packaging being recycled increase from 44% to 52%. The small changes are what adds up to make a big difference and when it comes to recycling, the higher quality of the material the better. We look forward to seeing more innovations in this area."