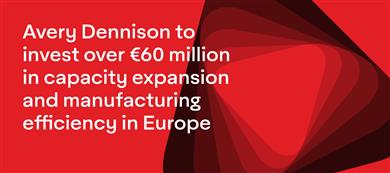 AVERY Dennison has revealed details of two investments aimed at expanding the company's manufacturing capacity and improving factory efficiency in Europe.
The firm said it is one year into a three-year, €45 million expansion of its facilities at Champ-sur-Drac, France. Enhancements include five new logistical buildings covering more than 8,700 square meters, a new automated warehouse, and an additional high-speed hot melt adhesive coater, scheduled to come online during 2024.
At its Luxembourg facility specialising in labels made with acrylic emulsion adhesives, the company has undertaken a €15 million project to redesign operational flow and add a new emulsion speciality coater. The coater is expected to come online during the first quarter of 2023.
"Our investments at Champs-sur-Drac and Luxembourg will allow us to meet customer demand now and into the future by freeing capacity throughout our European manufacturing network," said Tim Presto, vice president of supply chain & operations, EMENA.