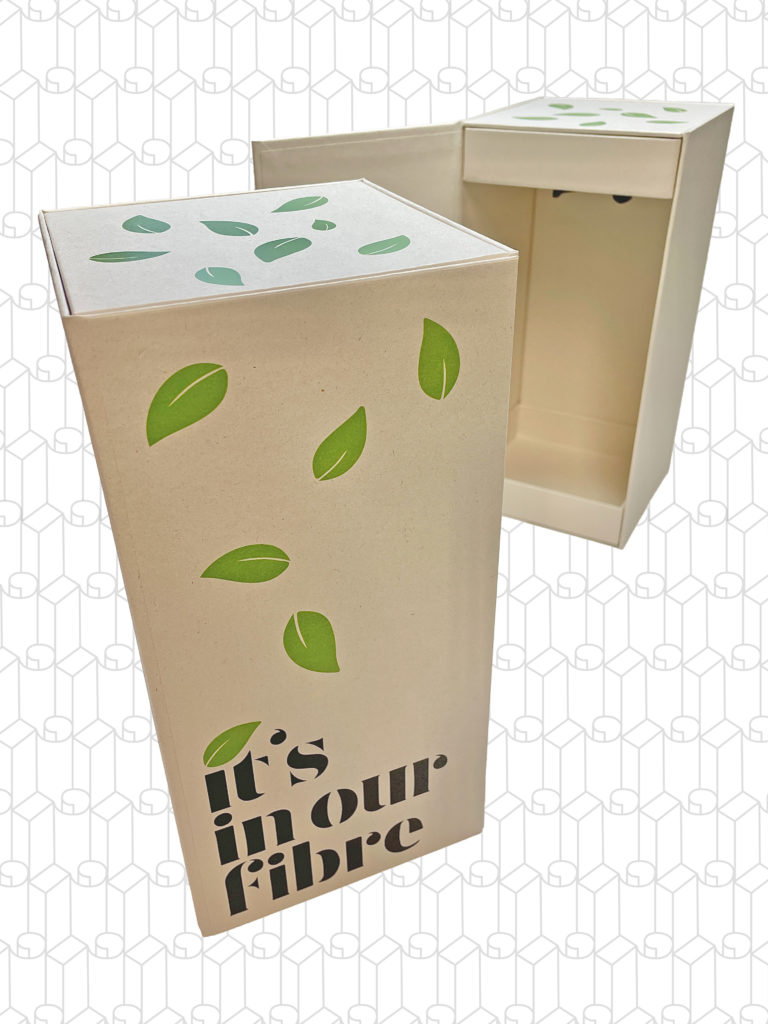 Luxury and sustainability can go hand in hand, explains Graeme Riddell, commercial director, Pusterla Pollards
UNLIKE many of the wealthy celebrities and influencers who post regularly on their social media channels, the buying of luxury items is not an everyday occurrence for the vast majority.
So, when we do purchase a big-ticket item, whether as a treat or a gift, we want the experience to reflect our investment and reassure us that it was money well spent – and packaging of course plays a big part in this.
It was perhaps for this reason that as sustainability became first an important and then an overriding factor in the design of packaging, the luxury sector was one of the last to feel the effects of this change of emphasis. We expect a luxury pack to be substantial, intricately designed and lavishly decorated in order to create that aura of excitement and anticipation that is very much part of the opening experience. As a result, we might not have been quite as focused on a pack's environmental credentials as we were for those packing our everyday items.
That's not to say that luxury brands and their packaging suppliers were not already looking at sustainability. At Pusterla Pollards, for example, we introduced a Sustainability Checklist as far back as 2018 to help customers maximise the sustainability benefits of their packaging solutions while still achieving functionality and aesthetic appeal.
But what is undoubtedly true is that over the past few years, sustainability has moved from a 'nice to have' to a 'must have' for the development of any new luxury pack. What is also true is that incorporating sustainability into a luxury pack design does not require a complete rewriting of the rule book. Indeed, we are currently re-engineering and reimagining a number of existing packaging solutions for our spirits customers to give them a stronger sustainability profile.
There are many areas where small adjustments can make a difference, such as the use of vegetable-based inks for printing, biodegradable film lamination, vegan glues, 100% recycled papers and pulp based (paper, starch or sugarcane) internal fitments. Any plastic required within the box construction can incorporate an organic polymer additive to accelerate the biodegradation process if the plastic is not recycled at end of life.
What is essential is that the luxury image is maintained alongside these enhancements. The choice of paper remains a critical factor here, with the wide selection available allowing designers and manufacturers to select ones that tie in perfectly with a customer's product image and branding objectives. And while this usually means choosing one made from virgin material, in nearly every case this will have come from sustainable sources and the major of paper suppliers are now FSC (Forest Stewardship Council) accredited.
At the same time, for the spirits market, we are working on a new initiative to utilise a biproduct from the whisky making process, which would otherwise have gone to waste, in the manufacture of paper. Another recent development is paper made from 100% waste fibres from agri food production. This reduces CO2 emissions from crops that instead would have been burnt at the end of the harvest, and the paper itself has a 29% lower carbon footprint compared to 100% recycled content paper.
Decoration is also vital to the image-making process. Alongside high-quality printing, intricate and detailed foiling can make a significant contribution. Again, to maximise the sustainability benefits of this process, any waste is sent to be reused in the manufacture of products such as cement as part of an industry Zero Foil to Landfill scheme.
Naturally, effective design is still fundamental to the success of the pack. As mentioned earlier, the 'opening experience' is a major factor in generating excitement around a brand. This can be achieved in several ways – through the 'reveal' of the product with opening doors that contain graphics and text to explain the background to the drink, or through the touch and feel of the pack as it is handled for the first time. A recent development in this area has been the introduction of paper ribbons for whisky packs that feature densely woven strands of paper to create a luxurious and tactile effect.
Alongside these physical features, interaction with customers through the packaging is becoming increasingly common. The use of QR codes can provide information on whisky blends, their heritage or history, or be part of a special promotion. These are now being joined by non-fungible tokens (NFTs) which harness blockchain technology to attract and connect with customers all over the world.
Sustainability may be the number one priority for premium spirits packaging, but that does not mean that luxury and image are being disregarded – indeed brands are pushing the bar higher on their requirements and manufacturers are responding accordingly. As a result, we are continuing to see the production of packs that would not look out of place on an Instagram feed.