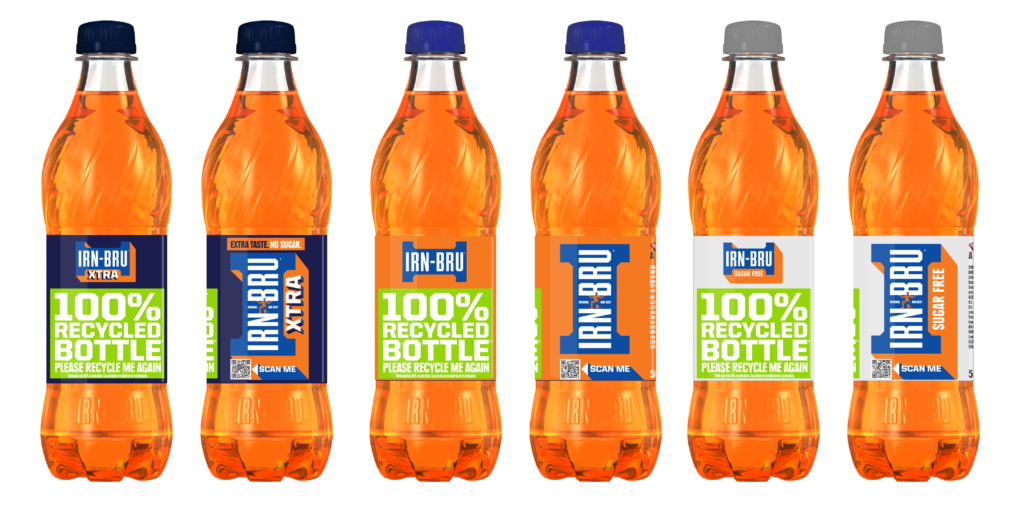 AG Barr has unveiled plans to roll out out 100% recycled plastic (rPET) packs across all 500ml IRN-BRU and Rubicon products.
The new packs will be available from the end of April, with the rest of the IRN-BRU and Rubicon range due to change by the end of this year.
AG Barr described the move as a 'crucial' part of a wider initiative, No Time To  Waste, which the company launched last year, bringing together net zero, plastic and packaging, waste, water and sustainable sourcing workstreams.
Marketing director Adrian Troy explained, "We're delighted to be announcing the next step of our No Time to Waste programme, with 100% rPET on our 500ml IRN-BRU and Rubicon products. We recognise that we have a responsibility to protect our planet and we know how important it is that we act now to try and reduce our impact on the environment.
"It has always been really important to us to make a positive contribution to society and behave responsibly as a business; respecting the environment has been a key pillar of this work. Sustainability is also a key issue for our consumers. 58% of consumers say that environmental issues are important to them, that's up 5% from a 2020 study, which is encouraging to see. We want to help encourage even more consumers to be aware of the environmental impact of their purchasing decisions."
On-pack labelling will help inform shoppers about the new bottle materials, and the roll out will be supported by an advertising campaign to engage consumers on recyclability and recycling.