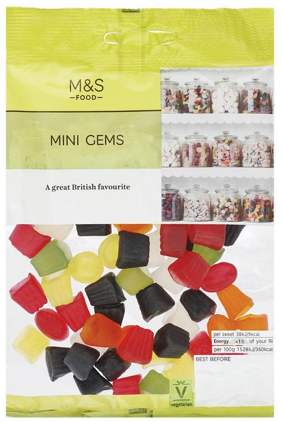 MARKS and Spencer has launched new packaging for its mini gem range, following a campaign by a Welsh academic.
Previously known as 'midget gems', Dr Erin Pritchard, lecturer in special educational needs at Liverpool Hope University, warned that the term 'midget' is a form of 'hate speech' and 'widely offensive' to the 'vast majority' of people with dwarfism.
The academic, who herself has achondroplasia which is the most common form of dwarfism, reached out to M&S and other retailers to ensure they understood the 'significance' of using the word.
An M&S spokesperson said, "We are committed to being an inclusive retailer – from how we support our colleagues, through to the products we offer and the way we market them to our 32 million customers. Following suggestions from our colleagues and the insights shared by Dr Erin Pritchard, we introduced new mini gem packaging last year, which has since been rolled out to all of our stores."
Dr Pritchard added, "The word 'midget' is a form of hate speech and contributes to the prejudice that people with dwarfism experience on a daily basis. Having spoken with various firms about the use of the word 'midget', it's clear that many companies are simply unaware of just how offensive the term is, and I've had to explain to them why it's such an issue.
"We need better awareness about this particular word so that things can change for the better. And I'm grateful that M&S has been willing to listen to the concerns of people with dwarfism and has gone ahead with the rebranding."