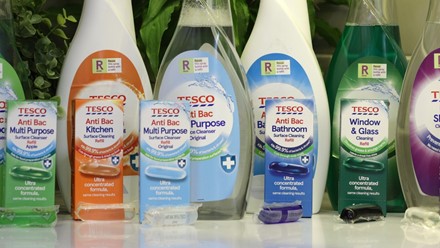 TESCO has launched a new line of cleaning spray refills which it said could help save up to 60 million pieces of plastic a year.
The dissolvable capsules are mixed with water to make a new cleaning solution, allowing for the spray bottles to be reused.
Included in the new range is multi-purpose surface cleanser; kitchen surface cleaner; bathroom surface cleaner; daily shower cleaner; and window and glass cleaner.
Tesco cleaning product buyer, Michael Williment, said, "Refillable cleaning products should prove to be popular with our customers. Not only are they better for the planet – they clean to the same high standard, are easy to use and cheaper than buying a new spray bottle each time."