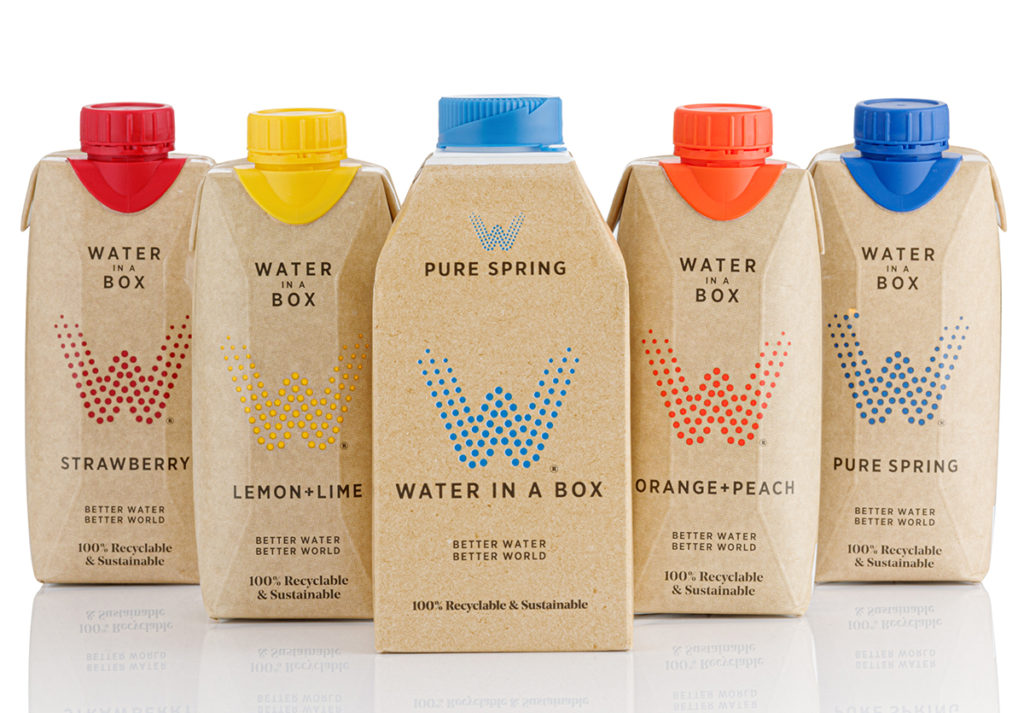 A water brand that 'pioneered' repackaging water into environmentally friendly cartons is relaunching its five-strong range with British-sourced water and new brand redesign.
Water in a Box will also be one of the first in the UK to launch water in SIG's carton bottle combidome for its 500ml plain spring water.
The Water in a Box range now includes a 500ml plain spring in combidome and four x 330ml Tetra cartons (plain spring, lemon & lime, orange & peach and strawberry).
The company's relationship with Framptons is said to have been bolstered by the installation of the UK's first next-generation combidome filler from SIG. The 500ml lightweight combidome carton bottle is described as combining the best features of a carton and a bottle, with 'convenient handling' and 'easy opening and pouring' from the single action domeTwist closure.
The carton is fully recyclable and largely made from FSC-certified paperboard.
Water in a Box has historically sourced the spring water for its 500ml plain water from Germany but as part of its Better Water, Better World sustainability commitment, it has moved all its sourcing to the Mendip Hills, Somerset. This reduces the company's carbon footprint.
David Grannell, MD of Water in a Box, said, "We've always stayed close to our mission to provide a range of truly sustainable boxed water which is renewable, environmentally friendly and has a lower carbon footprint than PET. The life cycle of our packaging is important which is why our cartons are now both SIG and Tetra, two of the most forward-thinking sustainable packaging companies in the world.
"We believe this focus on sustainable packaging, 100% British water, and a powerful new brand that emphasises our environmental credentials will help transform the bottled water category for the better."
Russ Lisle, key account manager at SIG, added, "Our close partnership with Framptons continues to grow following the recent installation of the new generation combidome filler at its manufacturing site – the first of its kind in the UK.  With its unique look and shape, the combidome carton bottle stands out in retail and offers consumers the best features of both a carton and a bottle, with an excellent environmental footprint."