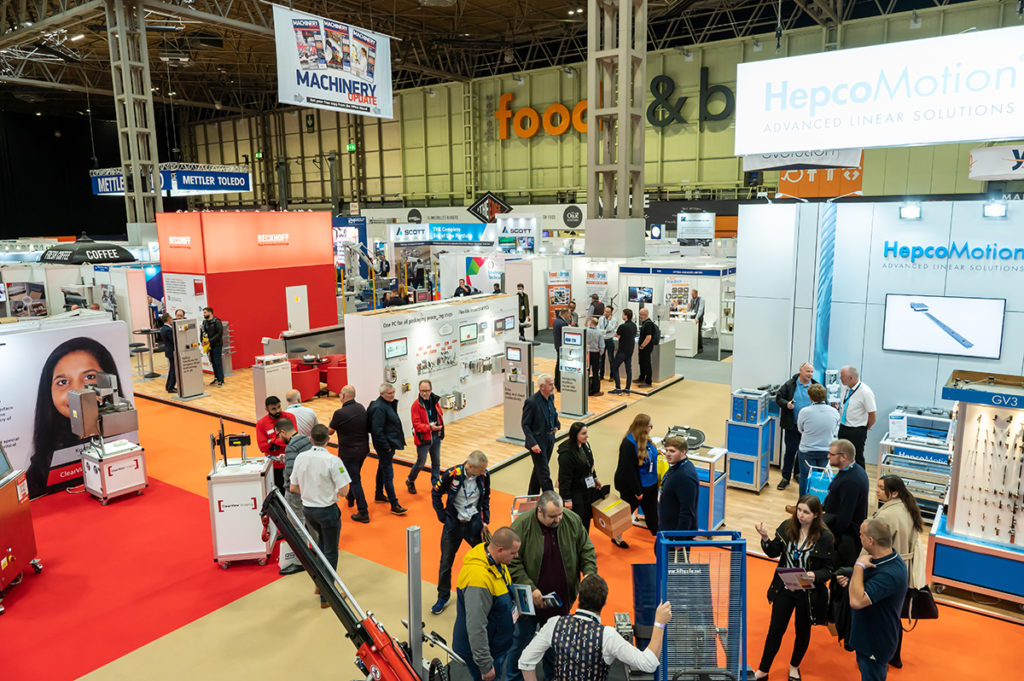 Despite the ongoing pandemic-related challenges and recent fuel crisis, organisers of PPMA Show 2021 revealed the event attracted a 'solid' attendance, as more than 250 exhibitors displayed their latest solutions over three days at the NEC, Birmingham. 
ORGANISERS and exhibitors have hailed the success of PPMA Show 2021, which provided a very welcome return to face-to-face interaction with customers and key sector stakeholders as the industry celebrated the latest innovations in processing and packaging machinery.
Sustainability and automation were two of the major trends this year, with a vast array of companies taking the opportunity to show off their latest solutions to help tackle some of the most pressing issues the day, including acute labour shortages and ambitious environmental targets.
Following the Covid-enforced cancellation of last year's event, many exhibitors remarked that the show was an important step in returning to normality, with those in attendance firmly focused on business and networking opportunities.
Ed Williams, sales director at ULMA Packaging, told Packaging Scotland it was a relief to have face-to-face business back, due to his belief that you've got to be in a factory to fully understand the needs of customers and talk to people of all levels at companies – something that's difficult to replicate virtually.
The firm was showcasing the new ARCTIC flow wrapper. The machine builds on almost a decade of feedback on the original version, which had a multitude of uses but was most popular with whole bird producers. "With the ARCTIC, we set about making sure that when we engaged with the market, we did so on the basis that we'd be heavily invested on feedback from them on how to improve the machine," Ed explained. "That feedback over about eight to ten years has been pivotal in designing a new machine – it's been absolutely dedicated to the whole bird market, and it's industry-designed."
Further to this is the release of ULMA's Arctic SS C, which allows for hermetically sealed packs with side-seal finishes. "What you end up with is two clear faces that aren't interrupted by an ugly seal," Ed said. "It's about that aesthetic appeal on shelf. With a lot of high-quality cheeses – where this is important as you want to see the quality – they are packed on film formers in semi rigid packs; if you're going to move out of film form into a flow wrap you want to present the product in the best light possible."
Ed revealed that ULMA plans to recruit a sales manager to cover Scotland, with the firm looking to further capitalise on the plethora of meat, vegetable, and bakery producers in the country.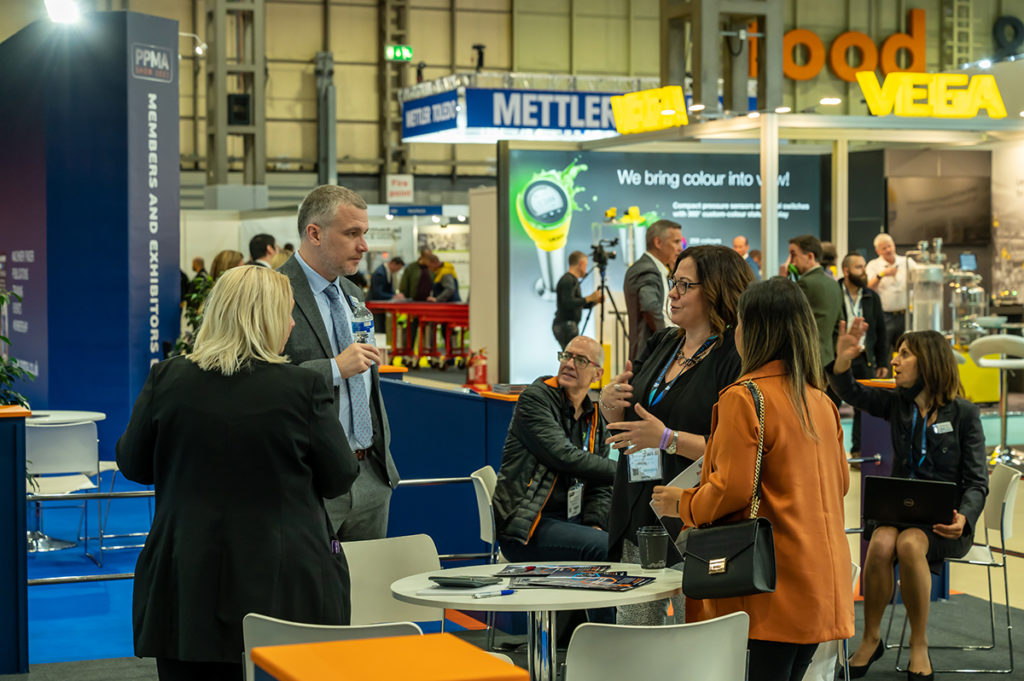 Elsewhere in the NEC was Minebea Intec's very populated stand, with over 30 people representing the firm at the event – a well calculated move, with interest being so great that Packaging Scotland's interview had to be rescheduled twice due to the busyness of the stand!
"It's brilliant being back," Colin Maher, country manager UK of Minebea Intec, told us after finally catching a break. "We didn't know what to expect this morning, because of Covid and the fuel shortages – what we have seen, however, is people with genuine projects, with a need to be here."
With a growing demand for automation, Minebea's new WPL-A automatic weigh-price labelling system took centre stage. The machine boasts intuitive software which displays live production data alongside visuals of the printed labels, as well as maximum traceability by pack number, product, user and machine ID.
IMA Ilapak invited visitors to see the UK live launch of the IMA flexible packaging hub, also known as IMA FLX HUB, described as an all-inclusive packaging enterprise where materials specialists, manufacturing processes and technology designers converge to develop sustainable systems to meet today's manufacturing needs. Sales and marketing director Tony McDonald welcomed the 'constant stream of high-quality visitors' spending time on the stand. "Nothing beats being able to engage with customers and prospects face-to-face," he said. "It was great to sit down and grab a coffee with our customers who we had been previously unable to visit due to the pandemic."
Another firm pleased to see a return to face-to-face interaction was Southgate Packaging. The company's stand attracted great interest – with visitors treated to a complementary branded football!
"It's fantastic being back," Darren Smith, head of marketing at Southgate, told Packaging Scotland. "To be able to actually meet current customers, distributors, and speak to new people, as well as demonstrating face-to-face, it certainly makes a difference." The firm showcased the new Water Activated Tape Case Taper, which Darren said will complement the boom in e-commerce. Speed, reliability and cost savings are the type of benefits Darren said users would get from the new technology. "It can tape the top and bottom. At the same time, you're cutting down on injury – you don't need someone to sit and do it; this can be built into conveying."
He added that Southgate has a 'catalogue' of new products set to launch in the next few months. Darren credits the bright looking post-pandemic future to the firm's attitude of 'pulling our socks up' at the onset of Covid, which saw a return to its roots. "We were very proactive," he said. "In the first couple of weeks, of course, we all worried and had a bit of a dip, but we came back and launched new products – we developed existing products to make sure there was a solution for everybody. We launched into hygiene as well, which is where the company was formed in 1966… and that helped us turn a corner. Then, with everyone working from home… the e-commerce bit of our business really began to pick up. Overall, it's been a phenomenal year."
Mettler Toledo showcased a wide range of machinery over the three days, with Packaging Scotland catching them on Day One where the focus was on the company's intelligent production solutions. Baptiste Naegelen, head of product inspection, told Packaging Scotland that it was 'fantastic' to be back – both from a professional and personal point of view. "It's a completely different story when people can actually see the machine, and they can do the set up," he said. "But we're also very proud of what we've been able to achieve over the last 18 months, from selling on site, to being able to sell remotely, organise any demo to customers, and we can now do remote factory accepted tests. We learnt a lot and adapted very well."
Included in Mettler Toledo's stand was the firm's new metal detection solution from its M30-R series, which launched prior to the show. "It's a pretty much improved metal detection system for the entry level market, so it offers advanced detection, with algorithm that improve detection capabilities at a very affordable cost," Baptise added. "All in all we managed to improve sensitivity on dry products by about 20% compared to the legacy range, and up to 30% on solutions at entry level. It also has an ongoing learning process, meaning that each time you've got a false reject, the user can notify the machine that the product was actually fine and next time it won't pick it up again."
Paul Holdship, market manager at Mettler Toledo, added that ensuring ease of use was important in the design of the machine – with the firm factoring in the high turnover of staff in food factories.
Yorkshire Packaging Systems displayed the company's recently launched Flexo E-COM machine, which combines a bagging process with an integrated print and apply label technology to boost e-commerce operations. MD Glyn Johnson told Packaging Scotland the benefits include speed, its compact nature, and fewer spare parts, which makes it easier to maintain. YPS has increased headcount since the beginning of the pandemic and moved into a larger HQ. "We're growing," Glyn said. "The business is still out there. The move has been very positive for us. We have a nicer working environment; morale is very good. There's more people to share the workload."
Peebles-based Evolution Bottling & Packaging Solutions has been exhibiting at PPMA since 2014. Susan Brown, sales and marketing manager, said the stand was busy with 'lots of footfall', adding that it was nice to see people getting back to normal. Evolution used the event to raise awareness of the firm's equipment for bottling and packaging lines.
"We do everything… whether it's a complete line, project managed solution, or a single machine to integrate into an existing line," Susan said. "The market is really busy. I think people over the initial stages of the pandemic maybe put projects on hold. They're getting back to normal and now using up that capital expenditure."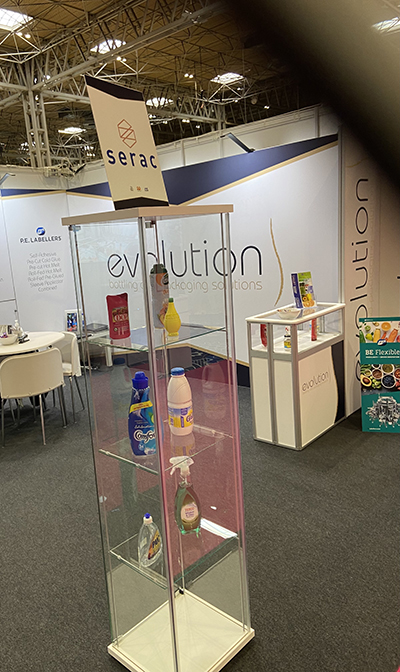 Ishida celebrated the benefits of automation, displaying models from its multihead weigher, checkweigher and X-ray inspection system ranges.
The 28-head CCW-RV multihead weigher has been designed for sugared confectionery; the IX-GN X-ray provides a versatile mid-range quality control and inspection solution; while the DACS-G-F015 checkweigher has been designed to meet private label manufacturing requirements.
The CCW-RV incorporates custom-designed parts which can deal with the challenges of sticky sugar-coated confectionery to deliver 'smooth and consistent' movement of the product for 'fast and accurate' weighing, the manufacturer said.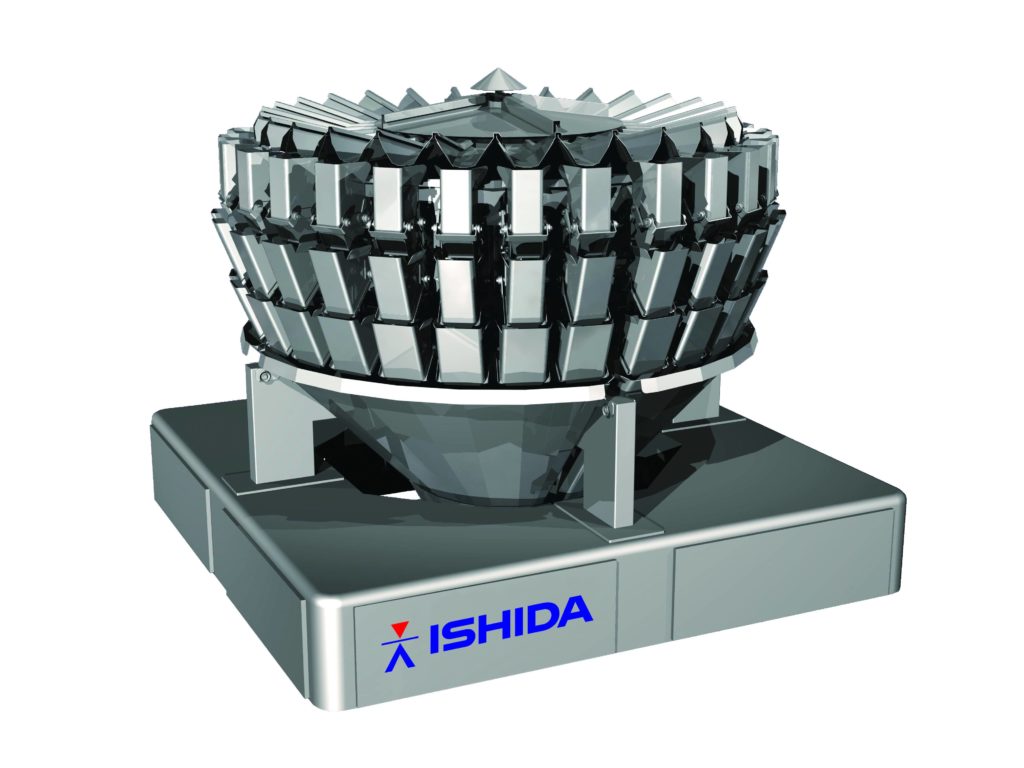 'Best-in-class' foreign body detection and quality control for a range of food products is provided by Ishida's IX-GN-4044 x-ray inspection system. The machine can detect contaminants including steel, aluminium, tin, glass, stones, dense rubber and plastic, bones and shells. In the checkweigher range, the DACS-F015 Advanced-Line model uses Ishida's Force Restoration weight cell to deliver 'precision weighing accuracy' for high-speed production lines.
OMRON UK used the occasion to debut its cobot palletiser, the RB1200, designed to help businesses tackle labour challenges.
Stuart Coulton, market development manager at Omron UK, described PPMA Show as 'livelier than expected'. He added, "Our stand was consistently busy from the moment the doors opened, with labour proving a major issue for manufacturers. Overall, it was a very successful show for us, attracting senior representatives from both SMEs and large corporations alike."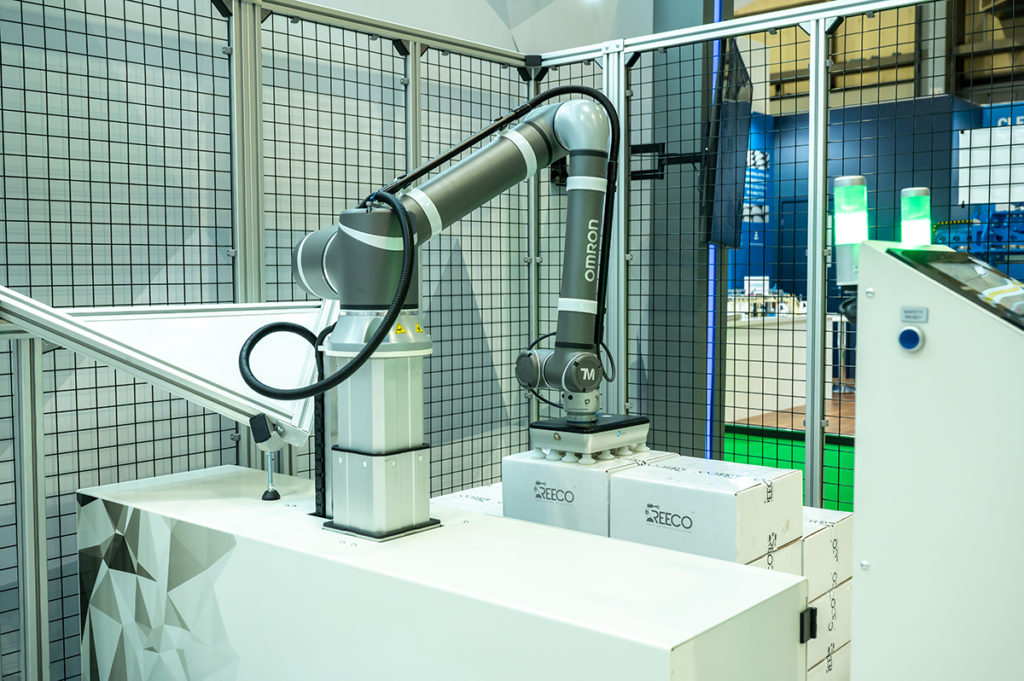 That sentiment was echoed by Steve Bradley, sales director at AVE UK, who was delighted with the quality of visitors. AVE launched the firm's OMNIA B cross flow filtration system for brewers and also showed off a mozzarella ball processing line for processing and dairy visitors.
Designed to recreate the taste, presentation and texture of traditional Italian mozzarella within a modern UK setting, the mozzarella line comprises six individual systems including an automatic coagulation vat, drainage trolley, whey recovery system, cradle coagulation vat, ricotta trolleys and salting cheese vats.
The OMNIA B delivers beer clarification, product recovery and microbiological stability in one system.
Steve said, "Our stand attracted a good number of visitors; most importantly, the quality was excellent too, with key decision makers such as heads of engineering and engineering managers all coming by to speak to us. We have come away from the event with some strong leads that we are looking forward to following up on."
Fortress Technology took the opportunity to debut its new Raptor series. Comprising metal detectors, checkweighers and x-ray – plus any combination category, the Raptor series has every available British retailer COP digitally pre-programmed before installation.
The series has been engineered to counteract product giveaway.
The new Raptor X-Ray is aimed at helping to bring about increased food safety. The machine is said to integrate a number of 'high-spec' technologies first developed by Sparc Systems, applying them to create an 'affordable, brand-protection food x-ray unit with a constant inspection throughout of 100 ppm'. The Raptor X-Ray inspects and rejects packaged meat, cheese, chilled and confectionery products containing metal, glass, wood, rubber, high density plastic, stone and calcified bones.    
Fortress MD Phil Brown hailed the event as 'one of the most successful PPMA Shows that we've ever exhibited at'. "We were extremely happy with the turnout at this year's event," he stated. "Our stand was constantly busy, with visitors spending longer than usual talking to our team. Most were looking to fulfil live projects taking place in the next 3-6 months, so they were ready to talk details."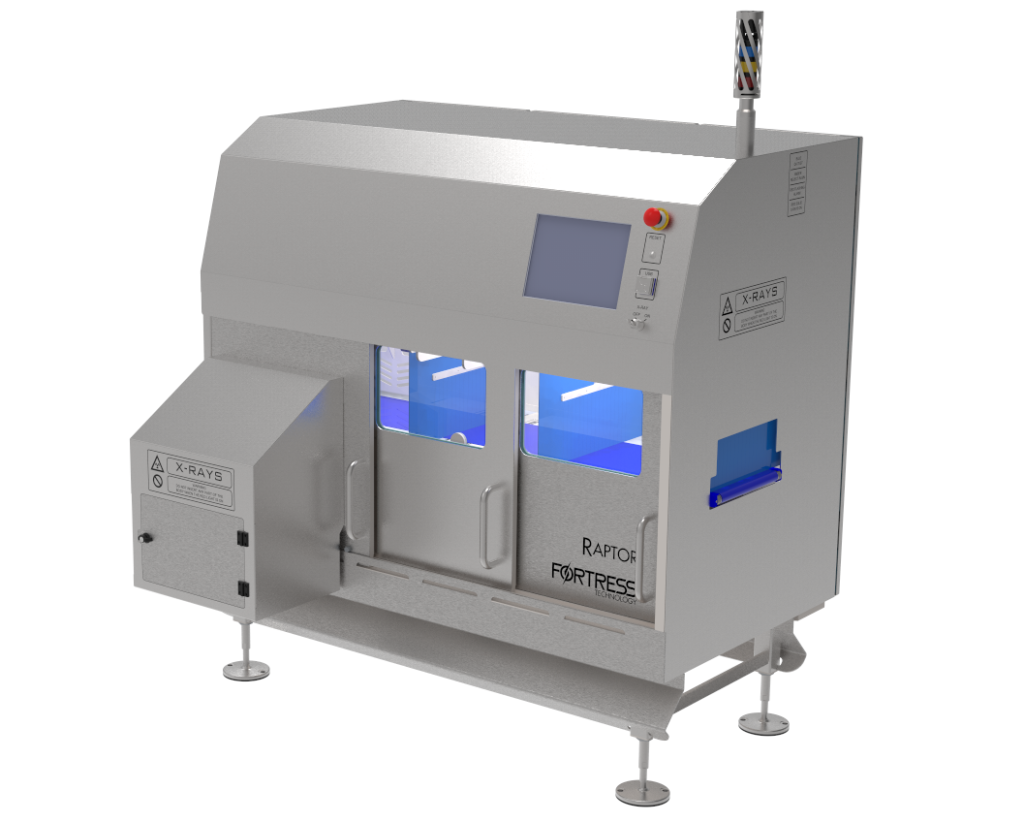 Sustainability was a key focus for Brillopak, with the firm displaying its newest UniPAKer robotic crate packing platform. By lowering compressed air consumption in the generation of vacuum by up to 45%, the company revealed the overall carbon footprint of the system is 'significantly' reduced. The single dual head crate packing cell also reduces supply chain waste by minimising damage to protective ready meal films.
Director David Jahn said the firm picked up 'some promising leads, mostly in the fresh produce and ready meals sectors'.
"I was pleased to note that the quality of visitors seemed higher than usual, with less junior team members and more project managers, directors and company owners," he remarked.
Richard Little, PPMA Show director said, "Notwithstanding the impact of the pandemic on all live events, the PPMA Show has once again proved to be a successful event for both visitors and exhibitors. We're thrilled to have delivered our first live show since 2019 and evidence is that buyers have visited our event with active projects in mind."