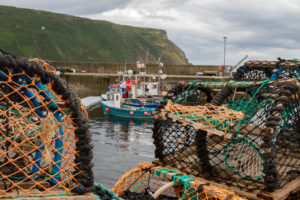 FISHING firms will be encouraged to trial new biodegradable packaging for chilled goods, as part of a new £24 million UK Government investment.
It comes as Westminster looks to help the fishing industry build back from the pandemic and benefit from the new post-Brexit quota arrangements through a wider £100 million investment.
The total project will be released in three pillars, with today's (September 13) launch seeing the release of funding for the science and innovation pillar.
On the launch, the UK Government said, "The science and innovation pillar, launched today, will see the fishing and seafood industry supported to work jointly with scientists to research new types of more productive and sustainable fishing gear, gather new data to more sustainably manage the UK's fish stocks, and trial projects such as new biodegradable packaging for chilled fish and seafood to reduce single-use plastics.
"These advancements in science and research will boost efficiency and help to ensure the long term sustainability of the industry."
The further two pillars will see investments be made in infrastructure as well as skills and training, with it hoped that ports, logistic hubs, freezing facilities and processing plants can be modernised – as well as new jobs being created and the up-skilling of the sector.
UK Government minister for Scotland, David Duguid, commented, "I know from extensive engagement with the Scottish seafood industry that the £100 million UK seafood fund has been eagerly anticipated, and I welcome the news that the substantial tranche of funding will boost innovation and all important sustainability."