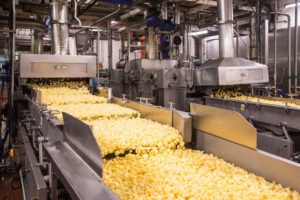 A new compact packaging machine is to be installed at PepsiCo's Lincoln factory, as part of a £24 million investment in the facility.
The firm said the outlay will allow it to produce more Quavers to help satisfy the demand for the crisps, which it said is bought by one in three UK households.
Existing machinery at the site will be replaced by new equipment, in a move which PepsiCo said will also create training opportunities for employees looking to be up-skilled in using the 'state-of-the-art' equipment and technology.
The move follows PepsiCo's multi-million-pound investment in its Skelmersdale and Coventry Walkers factories to install specialist compact packaging machinery – leading to a 30% reduction in outer packaging on average across its snacks multipacks.
The firm added that the new equipment at Lincoln will help it remove even more packaging from its supply chain – falling in line with its vision to build a world where packaging needs never become waste.
Nigel Beilby, PepsiCo's Lincoln site operations manager, said, "We've always had a strong heritage in the Midlands, providing jobs to almost 2,000 people in the region across our factories in Lincoln, Leicester and Coventry. For decades, our Lincoln factory has brought much-loved Quavers snacks to consumers up and down the country, and with this state-of-the-art technology, we're confident that the site will continue to serve the nation for many years to come."
Kwasi Kwarteng, the UK Government's business secretary, added, "It's brilliant to see PepsiCo doubling-down on its commitment to Lincoln through this significant investment in the city centre factory Walkers has called home for more than half a century. This investment will help to deliver on our plan to spread opportunity across the Midlands by future-proofing the jobs of the factory's outstanding employees by training them to use state of the art equipment, and further bolstering the workforce through their apprenticeship scheme."