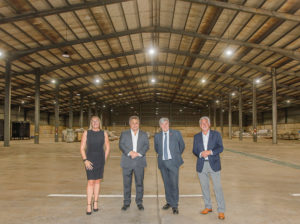 BUCKINGHAMSHIRE-based Yes Recycling is set to open its new 'state-of-the-art' facility in Glenrothes in October.
Fife Council said that the opening will see the creation of up to 60 jobs, with it set to recycle 15,000 tonnes low-grade post-consumer plastic each year.
The privately owned firm is an experienced recycler of hard-to-recycle plastics, including bank notes, POS garment hangers, printed packaging film and post-industrial and construction waste-streams.
The plant will feature patented recycling technology, with Fife Council saying that the 15,000 tonnes of low-grade post-consumer plastic will be processed into pellets and flake, as well as the creation of a new generation of 'high strength' Ecosheet.
The local authority added that the Ecosheet, which is a plywood alternative, will positively impact the construction and manufacturing sectors. It said that the new product is as strong as plywood, has the same pricing, but with a 'much greater' lifespan.
Much of the recycling material for the factory will come from Dunfermline-based Cireco, as well as some commercial streams.
Omer Kutluoglu, co-founder and director of Yes Recycling, commented, "Opportunities are limitless for the recycling industry in Scotland, with local authority and government guidance focusing on making a change for the better. Investment in change is evident across Scotland, and for us, Fife is the ideal location for our first plant of this kind.
"We've been well supported by Fife Council's InvestFife services, which have included business and employability support. We look forward to the continuation of this work enabling positive changes to Fife's environmental sustainability and local economy.
"The installation of machinery and recruitment is imminent. Yes Recycling will be able to open our new facility in late October, which timely coincides with the 26th UN Climate Change Conference of the Parties (COP26) in Glasgow."
The facility was backed with £520,000 from the circular economy investment fund, which is administered by Zero Waste Scotland with funding from the European regional development fund and the Scottish Government.
Councillor Altany Craik, convenor of economy, tourism, strategic planning and transportation committee at Fife Council, said, "This is a particularly welcome inward investment within mid-Fife. In the current environment, it really is a fantastic opportunity for Glenrothes and its local community. The positives are boundless in terms of creating jobs, supporting the local economy, as well as strengthening our commitment to the local Climate Action Plan and sustainability.
"The announcement by Yes Recycling is testimony to the attractiveness of Fife as an accessible and desirable location for such an innovative enterprise. I'm excited to see the new facility in operation later this year, and to understand more about how, as a region, we can be smarter with waste."