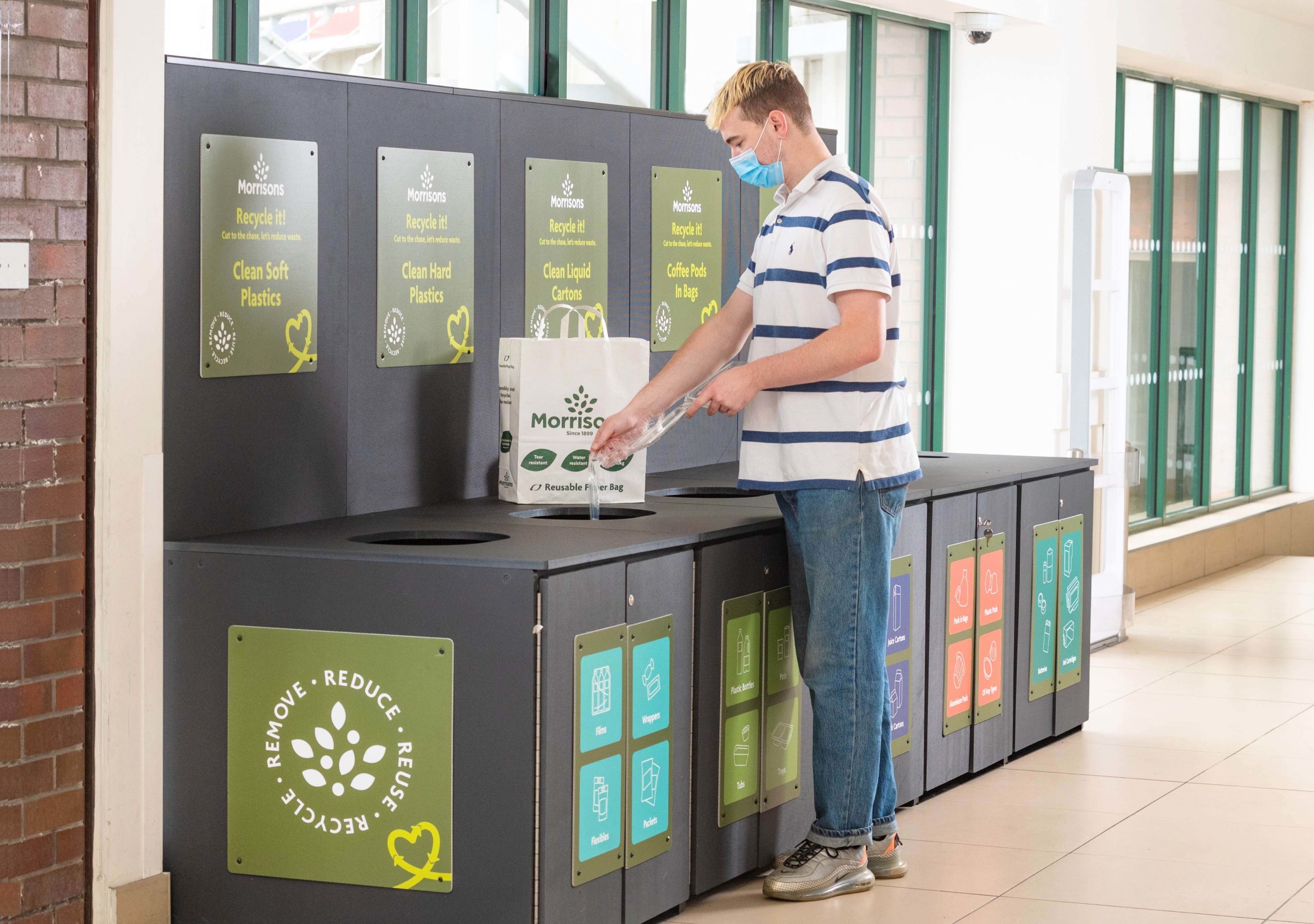 MORRISONS is to launch 'zero waste' stores in Scotland as part of a trial which the retailer hopes will allow it to recycle all of its waste across all its stores by 2025.
The pilot will involve a 'unique' partnership between the supermarket and Nestlé, which will see all 'hard to recycle' soft plastics be collected and recycled – with all waste being recycled in the country.
Shop waste – such as soft and hard plastics, cardboard, food waste, PPE and foils – will also be sorted by colleagues in the warehouses of the stores, before being collected by a range of specialist waste partners for UK recycling.
Dedicated collections points will be made available to customers, with the facilities accepting hard-to-recycle items such as confectionery wrappers, pet food pouches, yoghurt tubs, crisp tubes, coffee pods, plant pots, ink cartridges and batteries.
Morrisons said that all waste collected will be repurposed into other products, with soft plastics set to be made into new eco board products. Bread waste will be turned into animal food, whilst cooking oil will be used as biodiesel to fuel Morrisons trucks.
In addition to packaging and product waste, more unsold food in the 'zero waste' stores will be offered to customers on a budget through the Too Good to Go app. The app allows customers to purchase bags of surplus food at a discounted price.
Jamie Winter, sustainability procurement director at Morrisons, said, "We're not going to reach our ambitious targets through incremental improvements alone. Sometimes you need to take giant steps and we believe that waste is one of those areas. We believe that we can, at a stroke, enable these trial stores to move from recycling around 27% of their general waste to over 84% and with a clear line of sight to 100%.
"We all need to see waste as a resource to be repurposed and reused. The technology, creativity and will exists – it's a question of harnessing the right process for the right type of waste and executing it well. And all waste collected in our stores will be recycled here in the UK – we will not reprocess anything abroad. If we're successful, we'll roll this zero waste store concept out across the UK as fast as we can."
The stores set to feature the new concept are Edinburgh Hunters Tryst, Moredun, Ferry Road, South Gyle, Granton and Livingston.