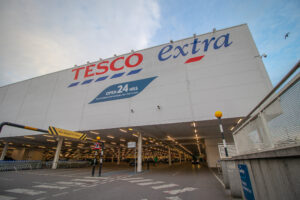 TESCO has partnered with Loop to launch a new programme which will allow consumers to purchase products in returnable packaging.
BrewDog, Persil, Fever-Tree and Carex are amongst the 88 brands featured in the programme, alongside 35 of Tesco's own-brand essentials.
The products will be available at a Loop fixture found in store, with the range coming pre-filled in the 'perfect' container for the product – meaning customers don't need to bring their own containers.
Prices for the contents of each item are 'comparable' to the original. A fully refundable deposit starting at £0.20 is paid on each reusable product at checkout and this is refunded via an app, once the customer returns the packaging.
The programme will first launch in ten English stores, with Tesco saying that if all customers in the stores switched their ketchup, cola and washing up liquid bottles to the reusable alternatives, the packaging would be used more than 2,500,000 times a year.
Ken Murphy, Tesco Group CEO, said, "We are determined to tackle plastic waste and one of the ways we can help is by improving reuse options available to customers. Bringing Loop to our stores is a significant milestone in this journey. With 88 everyday products available, we're giving customers a wide range of options and we'll learn as much as we can from this to inform our future packaging plans."
Tom Szaky, founder and CEO of Loop and TerraCycle, added, "The consumer reaction to Loop in these first Tesco stores will prove pivotal in refining the Loop offering and ultimately we hope to scale reuse across more stores and the number of product lines available. Tesco is the perfect partner to bring Loop to retail in the UK due to its commitment to sustainability, in combating plastics waste and in its operational scale as the UK's biggest grocery retailer."