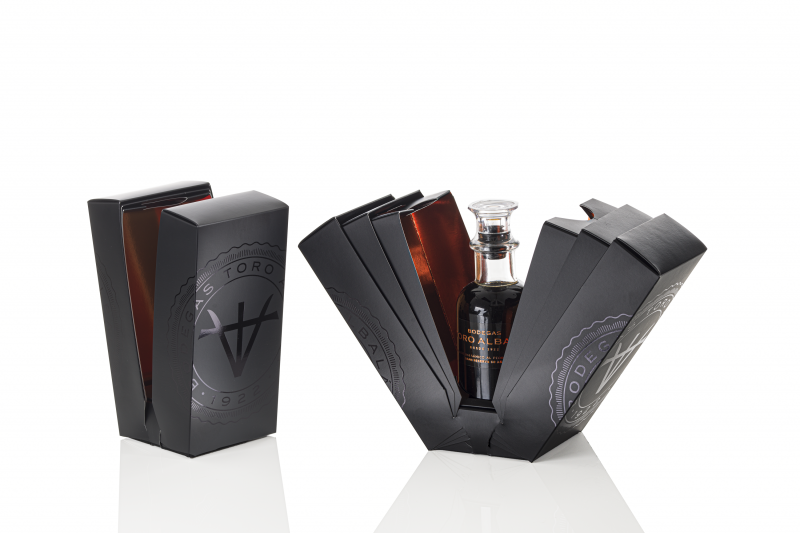 DURERO Packaging's Bodegas Balsamic has been named Carton of the Year at the European Carton Excellence Awards 2021.
The winner was announced during a virtual ceremony co-hosted by Pro Carton, the European Association of Carton and Cartonboard Manufacturers, and the European Carton Makers Association (ECMA).
Bodegas Balsamic is a gift pack for Bodegas Toro Albalà's crystal bottle of aged Spanish balsamic vinegar. Judges chose it for its 'aesthetic and unique structural design'. The entry, made from Holmen Iggesund cartonboard, opens in a way that resembles a Spanish fan. The hot copper stamping inside the pack is said to reflect the carnation flowers native to Cordoba, where the brand is based. There is also embossing on the outside of the pack to mirror the opening of flower petals.
To mark the 25th anniversary of the Awards, a new Champions' Trophy was presented to carton converter WestRock, with the firm having won the Carton of the Year title five times since 1997.
The Innovation Award went to Cardbox Packaging's Karlo Spoon with cartonboard from Stora Enso. The entry was in response to the EU's ban on disposable plastic cutlery. Its folded design creates a spoon described as being 'extremely robust' and capable of being attached to a product or inserted in a lid.
The Save the Planet accolade went to Gaphic Packaging International and BillerudKorsnäs for the PaperSeal MAP tray burger solution, which reduces the use of single-use plastic by 80%.
The full list of award winners can be found here: https://www.procarton.com/awards/carton-excellence-award/2021/
Tony Hitchin, general manager of Pro Carton, said, "The quality of entries submitted this year was phenomenal. The European Carton Excellence Awards have exceeded expectations yet again and what better year to do so than on its 25th anniversary. All of the packs and solutions entered demonstrate why cartonboard is the material of the future and highlight the important role it will play in helping brands and retailers move towards a circular economy.
"The Awards make it clear that cartons protect and promote brands as well as the environment, thanks to the structural design and aesthetic finish that can be achieved coupled with the strong eco-credentials of fibre-based packaging. It was a pleasure to celebrate a quarter of a century of carton innovation, with live streamed interaction with the winners. Great to see so many happy people!"