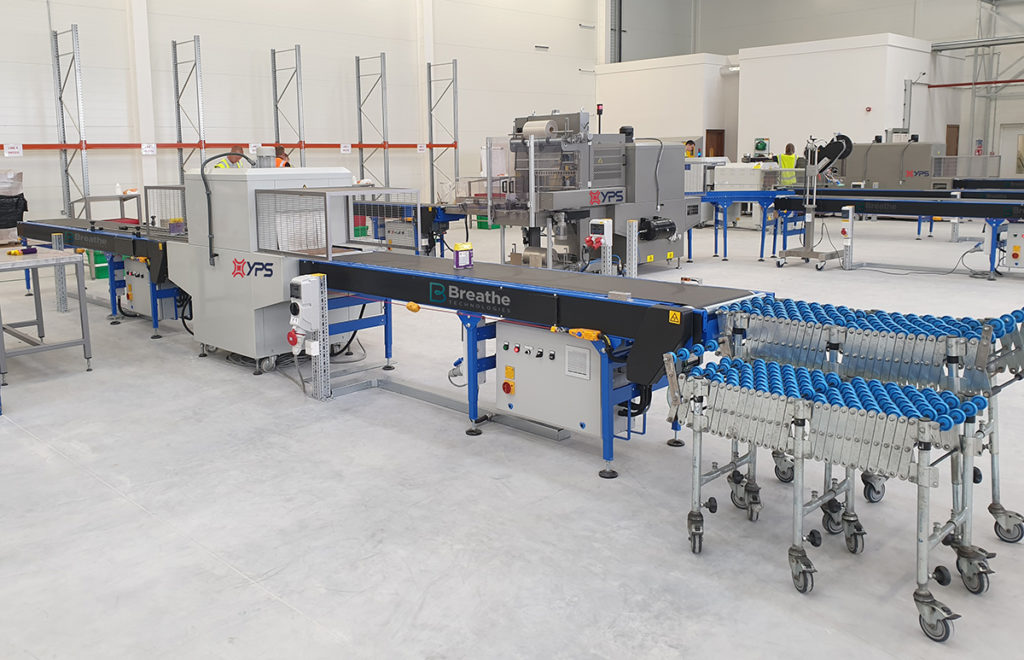 DHL Supply Chain's contract packing facility in Worksop is said to be reaping the benefits of a new turnkey packaging line.
Shrink wrapping machinery, box taping equipment, pallet wrappers, packing tables and an intuitive network of conveyors were installed as part of a joint project delivered by Yorkshire Packaging Systems (YPS) and Breathe Technologies.
The integrated solution was tailored to a new production line DHL had commissioned for the packing of domestic cleaning products.
DHL is directly responsible for the packing and distribution of hundreds of household products via contracts from major brands and manufacturers. The newly-built Manton Wood site is earmarked especially for personal care and cleaning products, wrapping items such as toothpaste, bottles of peroxyl, drain unblocker and air fresheners, many in twin packs with cardboard trays. The opening of this new distribution centre last year necessitated a complete packaging solution capable of handling products in varied collations, with a separate dedicated BAMA-compliant line for aerosols.
For display packaging applications, a Flexo X high speed side sealer with shrink tunnel was supplied. An SVA60-35 side feed sleeve sealing line and tunnel for transit packaging applications was also installed, which YPS explained boasts a number of 'enhanced' safety features for aerosols. Following the shrinking process, boxed products were diverted through a number of Robotape box taping lines before two automatic turntable pallet wrapping machines readied the loads for the final distribution channels.
A network of powered infeed and outfeed conveyors harmonised each stage of the packaging process, supplied and installed by Breathe Technologies. The belt conveyor modules were installed across 15 packing lines allowing up to 50kg of product per meter load and integrated with various third-party equipment including heat shrink and bundling machines.
Mark Hayes, projects manager at DHL, said, "YPS and Breathe Technologies worked tirelessly to implement and fine-tune this co-packing line so we could be operational at Manton Wood right on schedule. We're pleased with the flexibility the systems offer us to run a diverse catalogue of products in differing formats for our customers."
Jonny Braithwaite, director at YPS, added, "It was a pleasure working on this project with DHL and Breathe Technologies. DHL are synonymous in the co-pack world with quality and reliability so any solution we put forward had to meet these high impeccable standards. I'm delighted that we have achieved that by successfully delivering a robust, reliable and safe system and a professional finish across all wrapped packs." 
Marcus Uprichard, head of sales & partnerships at Breathe Technologies, commented, "We have a long-standing relationship with DHL Supply Chain providing dynamic technical solutions for the retail, manufacturing and logistics sectors. Working alongside YPS to deliver this integrated solution, ensures DHL is able to provide seamless complex contract packing programmes as efficiently as possible for their customers."