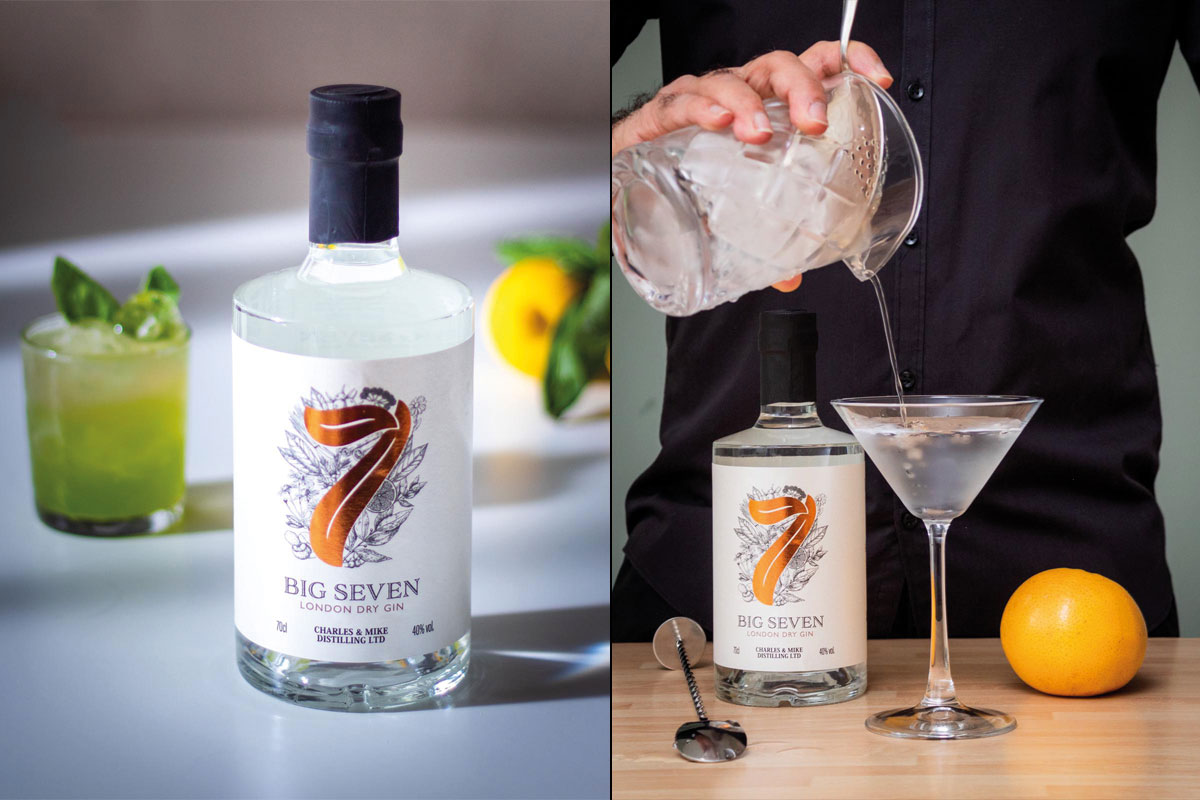 Customer: Charles and Mike
Brand: Big Seven Gin
Universe or market sector: Spirits
Category: Full solution
Origin: UK
Expertise: Glass packaging, labelling, custom closure
What were you looking for in a packaging supplier?
Ideally, we were looking for one supplier to take care of all our needs. As a small and independent business, having a good partnership with a supplier was key so we could continue to talk to them about what was coming next for us so we could always move at pace. We didn't want to be wasting days and weeks speaking to other companies.
The context
We started our business in March 2020 with one simple goal: to make the best spirits we possibly can. We've worked in the drinks industry for a combined 16 years so we felt this was quite a natural move. Having worked with lots of huge brands and helped bring their visions into travel retail, we had grown the brands of others; now it was our turn to do it for ourselves. We have also been fortunate enough to spend loads of time in distilleries across the UK and Europe and understand the process of distilling. After some time distilling for personal consumption, we started creating spirits we knew we had to share – which was when Charles & Mike Distilling Ltd was born. All of our spirits are made by us in incredibly small batches at our Distillery, in the heart of Essex. Our products are hand crafted and copper column distilled with no compromise to quality or taste.
Gin has been performing incredibly well in the last few years. Customers now more than ever wish to understand the provenance of what they are buying and seek to get an experience and story from their purchase. Gin was well positioned to exploit this because individuals can add heaps of their own personality and influence to the product due to the versatility of the spirit. In addition to this, there are a few barriers to entry for new distillers compared to the likes of Rum, Whisky, Vodka etc.
We are probably one of the smallest distilleries in the country, operating from 500 square ft. Every bottle is distilled, bottled, hand labelled and packed by Charles & Mike.
The challenge
Most of the obstacles came from our end, operating out of 500 square ft space, we didn't have pallet trucks or anything to help move bottles around! Our design agency worked in tandem with Bruni Erben to choose the best bottles to complement our label design.
While on our search for glass and the look of our brand we met with Eve Dickson, who was exemplary in her commitment to helping our brand, we smile now when we think of how Charles and Mike are like a child of Bruni Erben and they are committed to encouraging and helping us grow.
The result
We wanted a bottle which would complement the design and style of our label and Bruni Erben were able to provide a bottle which fitted perfectly. Since then, we have ordered miniatures of the same bottle and also a different style of bottle for our next project.
Our Project Lead, Eve, is great with keeping us informed with new glass from their side if she thinks it will be of interest to us. For example, Eve made us aware that there were miniature bottles of our current bottles that were available; we made the decision to buy these so we could manufacture and sell.
There was a big improvement on brand performance, before we worked with Bruni Erben, we used a generic gin style bottle which was purchased from various places online. As a Premium Gin manufacturer, we initially struggled as we were trying to push a gin with a high price point but with a bottle people would have seen before and that just didn't shout premium! However, with the glass we use from Bruni Erben, we no longer have issues conveying our message to customers.
"It's a privilege to work Charles & Mike Distilling, helping to bring their brand vision to life. The relationship between Charles & Mike Distilling, Bruni Erben and Andrea at Avian is the very definition of teamwork. We recognise the trust that clients place in Bruni Erben when choosing ourselves as their partner, and we take the responsibilities that this brings very seriously." Business Development Manager, Eve Dickson (Project Lead).
Email to: mail@brunierben.co.uk