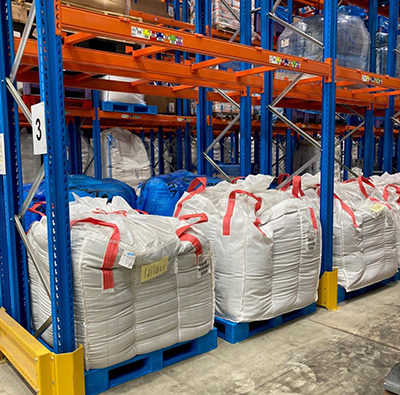 GOPLASTICPALLETS.COM (GPP) has divulged details of its work to help a UK food manufacturer of ready meals and snacks handle bulk dried ingredients in its new raw materials warehouse.
The firm recommend a plastic pallet for use within a new semi-automated high density storage system, which utilises a deep lane shuttle carrier to put away and retrieve pallets within a specially designed rack structure. This optimises usable space in the warehouse and helps with stock rotation in a FIFO system.
The client is best known for tinned fish, pastas, canned fruit and pulses. The company required a plastic pallet solution for handling dried pulses stored in large flexible intermediate bulk containers (FIBC). Each bulk bag can hold up to 2000kgs of dried ingredients, so needed a strong pallet capable of handling heavy loads.
GPP explained that the storage of bulk bags on pallets can be problematic as their shape is never exactly the same and they often lean sideways. Point loads on the pallet deck can form, which transfer through the structure of the pallet giving a non-uniformly distributed load that can cause high deflection when in racking. The automation within the storage system being used detailed very specific tolerances on deflection that the pallets had to meet.
GPP added that it consulted with the manufacturer to determine the key performance specification – a 'robust' heavy duty plastic pallet of 1200 x 1000mm footprint. A shortlist of potential pallets was established before working with the technical team at Cabka-IPS to conduct an 'application' trial to establish which one would exactly match the demands.
Following the trial, GPP recommended the APB 1210 Super Pool 5R pallet in virgin grade Polypropylene material. This 1200mm (L) x 1000mm (W) x 165mm (W) plastic pallet is capable of storing static loads of 6000kg and can also handle loads of up to 3000kg.
GPP said its 'flat smooth' upper deck ensures no sharp edges that could lead to the bulk bags being snagged and torn. The pallet is a full perimeter 5 runner base configuration that can be used with materials handling equipment such as fork lift trucks and pedestrian power trucks, as well as running on automation in the warehouse such as pallet inverters, roller conveyors and shuttle carriers.
The pallet can be printed for identification and supplied in a range of colours. There are areas on the outside corner blocks where labels can be fixed and it is also possible to optimise the management of the pallets using an electronic 'track and trace' system by fitting RFID tags internally within the pallet structure.
A second, lower specification pallet was also supplied for use in another different storage application within the warehouse. This was for other ingredients with a lower tare weight and stored within a more conventional, two beam back-to-back rack system. The pallet recommended for this task was the Cabka-IPS ER100L 5R in recycled High Density Polyethylene (HDPE).