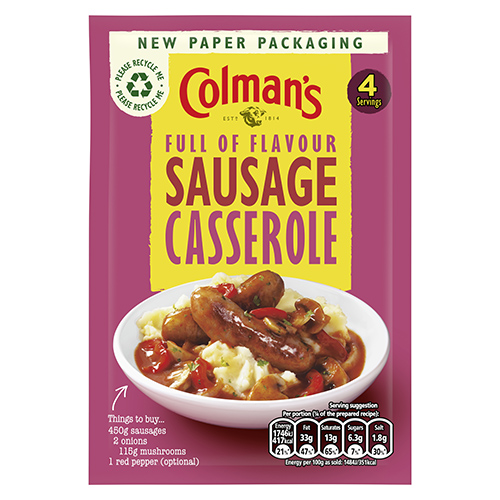 UNILEVER and Mondi have teamed up to develop a new high barrier paper-based packaging material for Unilever's Colman's dry Meal Maker and Sauces range.
By replacing the previous unrecyclable multi-material laminate with recyclable paper packaging, Mondi said it is supporting Unilever in its sustainability targets. The aluminium, as well as 'unnecessary' plastic layers of the previous material were eliminated, the firm stated.
This, Mondi added, resulted in a new solution with paper content of 85% and an 'ultra-thin' functional plastic layer that seals the packaging and provides barrier protection for the food.
Mondi and Unilever's R&D teams identified this layer as the 'minimum acceptable protection' needed to ensure a long shelf-life while maintaining high quality and reducing waste.
Fikerte Woldegiorgis, foods marketing director, Unilever UK&I, said, "At Colman's, we're big and bold when it comes to our flavours, and we're keen to make equally bold steps when it comes to our sustainability commitments. We are delighted to partner with Mondi to develop this recyclable paper packaging, becoming the first big brand within the category to do so. The new packaging, which uses a paper-base, ensures that shoppers can enjoy the same great tasting product they know and love, and now with the added benefit of being able to recycle the packs."
Torsten Murra, global head of key accounts consumer flexibles, Mondi, added, "MAP2030, Mondi's action plan for the next 10 years to achieve our ambitious 2030 sustainability commitments, focuses on circular driven packaging and paper solutions, created by empowered people, taking action on climate. By working closely with Unilever, we were able to co-create a packaging solution that will deliver on all counts and is recyclable, providing a valuable resource for the circular economy to drive real change towards a more sustainable future."