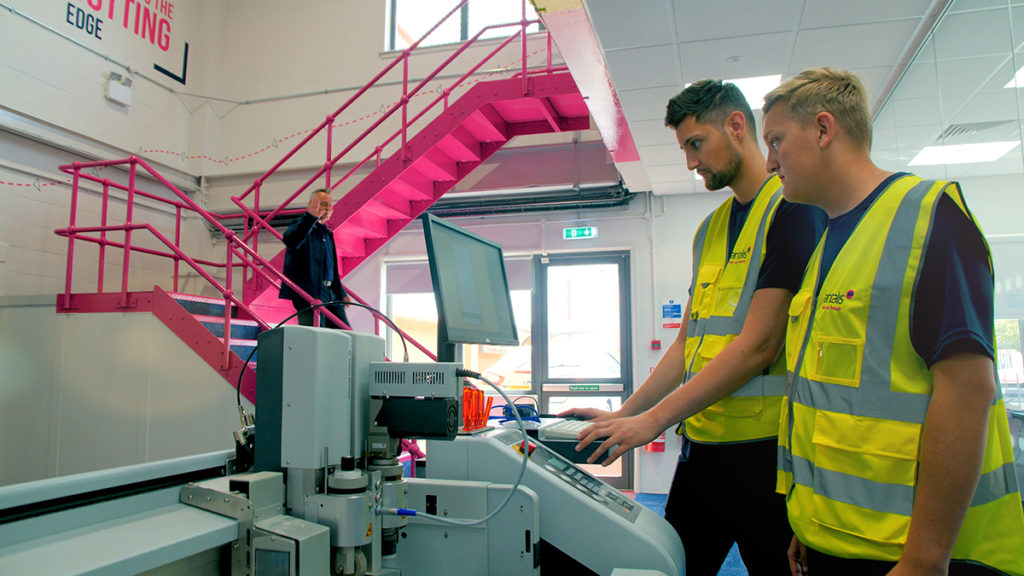 Antalis Packaging works with customers across the UK, offering a range of specialist products including void fill, tapes, shrink and stretch films, packaging boards, strapping and automated equipment. Regional sales manager Norman Robb, who is based in Livingston, told Packaging Scotland about the company's latest innovations, standout projects, and future plans.
Q) What are your latest products and innovations and how important is it to be constantly offering new solutions to the marketplace?
A) Our Smart Packaging Centre is Antalis' state-of-the art lab. Here we help customers resolve packaging-related issues by coming up with designs and solutions to challenges. We've been supporting customers with Covid-related challenges and helping them improve efficiencies and prepare for the forthcoming peak season.
Antalis has recently strengthened its environmental portfolio with the introduction of new AirSpeed Renew air bags. Designed for use with the Mini PAK'R and Pro PAK'R air cushioning and void fill machines by Pregis, the new AirSpeed Renew air bags for void fill and block and brace packaging are made from film containing 50% post-consumer recycled content and are 100% recyclable.
The introduction comes as businesses prepare for the Plastic Packaging Tax, scheduled to come into force in April 2022, which will see manufacturers and importers pay £200 per tonne on packaging material made from less than 30% recycled plastic. Antalis is also looking to introduce a number of other products made from more than 30% post-consumer waste throughout the year, including stretch films and bubble wrap.
Q) What environmentally friendly elements are incorporated into your portfolio of products?
A) We recently conducted a survey which showed that 66% of companies are willing to pay more for environmentally friendly packaging products. As a result, we have launched our packaging initiative, Protect the Future, which covers our whole value chain, from sourcing through to recycling, to make sustainable packaging possible, and support customers with their environmental challenges.
We are expanding our range of 'green' packaging essentials and our environmental services such as carbon offsetting and waste management. Antalis announced earlier this year that ALL packaging materials purchased can now be carbon offset.
Using the services of our Smart Packaging Centre we can carry out a review of any packaging operation and create solutions to improve sustainability. The environmental impact of a pack is an essential consideration of the design process and is primarily decided at this crucial stage.
Q) Memorable case studies?
A) Our client Ansell Lighting needed to make improvements to cope with an increase in distribution.  Antalis conducted an audit and our recommendations helped them achieve benefits including saving approximately 30% on materials. We introduced new machines, environmentally friendly packaging, customised packing benches, improved workstation efficiency and freed up warehouse space.
Another client was distributing components for the manufacture of equipment – however the packaging was not protecting the goods. It also contained plastic, was labour intensive to construct and was wasteful with materials. By collaborating with Antalis this client achieved sustainable benefits (removing a plastic bag and reducing board) – and overall cost and efficiency savings were achieved.
A new business card box solution designed by Antalis was shortlisted in the Packaging Awards for 'Resource Efficient Pack of the Year'. A drive to reduce its use of plastics prompted the client to seek a more user and environmentally friendly alternative for its business card boxing. The new recyclable box is made from FSC-certified board and has eliminated use of plastic and secondary packaging materials.
Q) What current trends are you noticing?
A) Customers are looking for efficiency and sustainable packaging. They want solutions that help them to reduce their environmental impact, increase the use of sustainable materials, and lessen their overall use of raw material for each package so they can reduce their carbon footprint and support a circular economy.
Packaging has changed and consumer habits have altered. Adapting and evolving packaging to a new post-pandemic future will be key to sustainable and efficient packaging. Businesses need to keep up with the demands and expectations of modern consumers.
Q) What can you tell us about future investment/growth plans?
A) 2020-21 has been challenging for us all. For us at Antalis Packaging this has led to new opportunities as clients are coming to us to find solutions for packaging materials, products, and services. We will continue to invest in new products and new solutions.
Antalis recently announced KPP (Kokusai Pulp & Paper) Group's successful majority share purchase, confirming its worldwide leadership as a distributor in the packaging sector. This enables Antalis to benefit from new resources, strengthening its position and supporting its long-term financial structure.