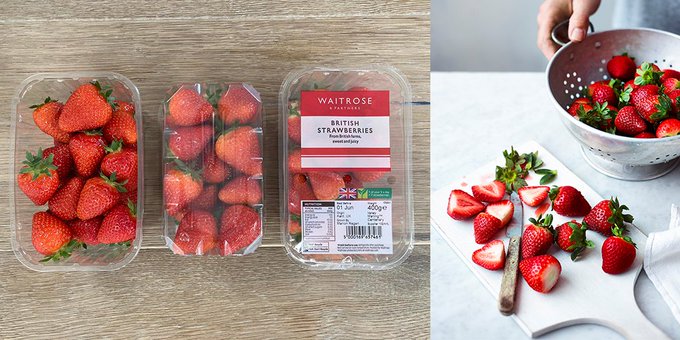 WAITROSE has unveiled new 80% recycled packaging for its British strawberries range in a move which it says will eliminate 16.89 tonnes of plastic and adhesive this summer.
The new 'Air-Light' punnet, which will come via Waitrose's long time supplier Berry Gardens, is made of 80% recycled material, is more light-weight and incorporates a cushioned design that it says helps protect the fruit from damage.
Further to this, the new packs eliminate the need for a separate bubble pad used in past designs to maintain product quality, thus meaning that the glue used to fix the pad to the packaging has also been removed.
The punnet, which has been developed by packaging company Sharpak, will be available in select stores and across select lines as part of a trial throughout the summer. Waitrose said that the trial period will be used to ensure product quality is maintained and is expected to roll out more widely next summer if successful.
Marija Rompani, director of ethics and sustainability at the John Lewis Partnership, commented, "Strawberries and cream has been a staple of the summer since they were first introduced to Wimbledon in the late 1800s. While many fans will still have to watch events from their living rooms this year, British strawberries are thankfully now in season – meaning a big part of the tradition can still be enjoyed by all, and this further reduction in plastic packaging will help make them taste all the sweeter this summer."