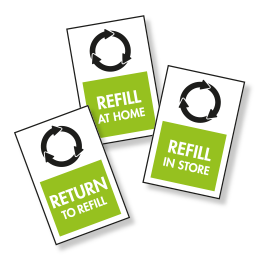 OPRL is marking World Refill Day (June 16) by urging its 650 members to be 'loud and proud' about labelling refillable packaging to help consumers make responsible choices.
The organisation operates the UK-wide On-Pack Recycling Label scheme. OPRL said its research into 18 pro-environmental behaviours adopted by British consumers placed reusing bags first, increasing recycling at home second, taking litter home fifth and avoiding single-use plastic bottles sixth.
With brands and retailers increasingly offering a range of refill models, OPRL added that it is 'crucial' that consumers understand how to refill reusable packaging.
Three refill systems – using lightweight-packaged refills at home, bulk refill facilities in store, or via a return system where the brand or retailer takes back packaging – are reflected in the new labels.
Jane Bevis, chair of OPRL, said, "Consumers repeatedly tell us they want to do the right thing but need help from business and government in doing so. With so many consumers expressing interest in refillables, the major shift needed to make refill systems successful is within our grasp. But this has to be underpinned by clear and consistent labelling which consumers can trust and readily understand."
Margaret Bates, executive director of OPRL, added, "To qualify for the OPRL Refill label the packaging must be designed for reuse a minimum of ten times, with refill systems available to 75% of the UK population for a minimum of three years. Only then will the real environmental gains through reuse be realised, unlike reusable carrier bags where heavier gauges and displacement to other products such as bin liners and nappy bags may have actually increased plastics consumption."