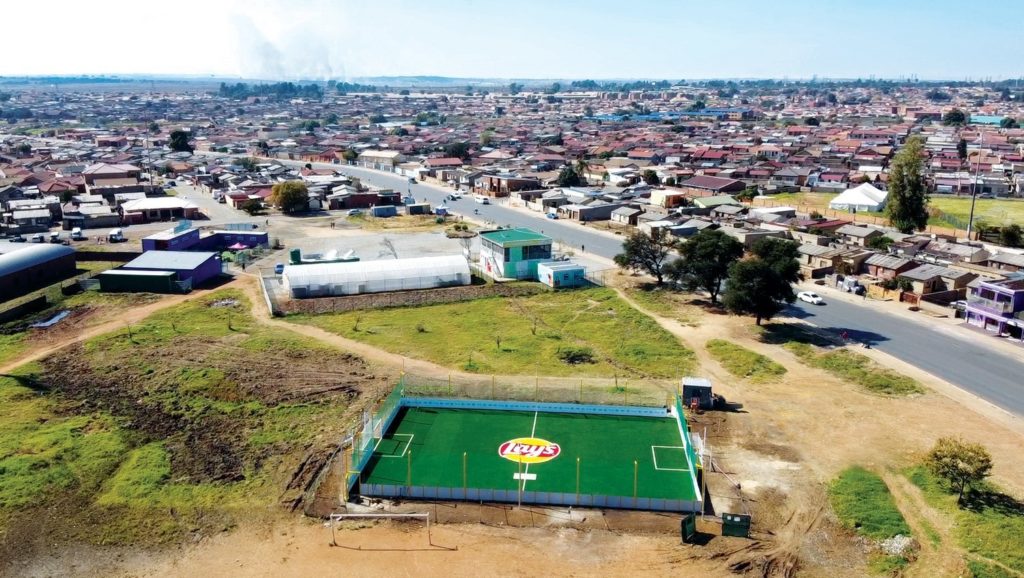 CRISP maker Lays has partnered with the UEFA Foundation to create football pitches from empty crisp packets.
The firm expects up to five Lay's RePlay pitches to open this year, with the first in South Africa, followed by communities in the UK, Russia, Brazil, and Turkey.
In partnership with Greenfields, a global artificial pitch manufacturer, the empty Lay's crisp packets will be collected from local waste and recycling partnerships. They will then be shredded and converted into pellets which will form the underlying layer beneath the turf.
Good Business, an independent consultancy, carried out an in-depth study on the plans which found that the RePlay pitches have a 'significantly' lower environmental impact than alternative artificial pitches across several areas, including: reduced greenhouse gas emissions, microplastic pollution, recyclable material and turf, ecological disturbance, and water usage.
Sebnem Erim, vice president of marketing and global foods at PepsiCo, commented, "Providing people with joy one chip and one bag at a time is at the heart of our brand. Building upon decades of experience bringing people together with the game, we are proud to introduce Lay's RePlay. More than just a planet positive pitch, we are working with local partners to build spaces and programs that can deliver positive impact and change for generations to come."
Lionel Messi, Lay's ambassador, added,"I was lucky enough to start playing football at a young age and it transformed my life. Everyone deserves the chance to play and fall in love with the sport, and Lay's RePlay is giving communities across the world that opportunity. I'm proud to give back through this project and excited about the impact it can have on the next generation."