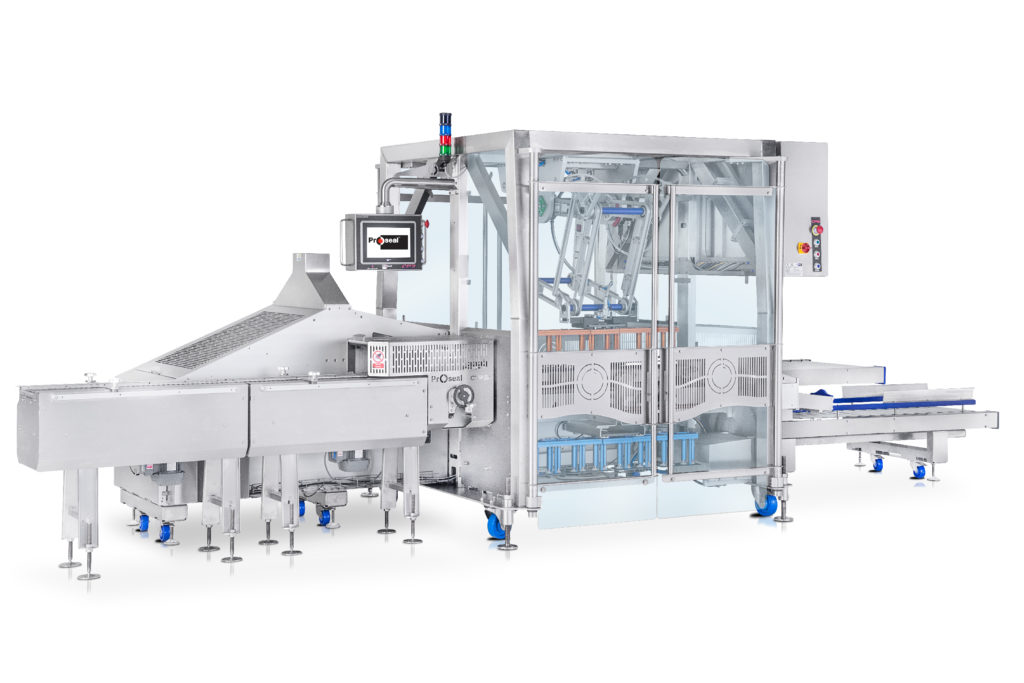 TRAY sealing specialist Proseal has unveiled a new high-speed fully automatic case packing system.
The patent pending Proseal CP3 is described as combining 'efficient power consumption and a compact footprint' with the ability to fill cases at up to 120 packs per minute.
Key to the CP3's performance is Proseal's ProMotion tray infeed system, which the manufacturer explained maximises throughput by using following motion and intelligent buffering technology to control the flow of trays, enabling them to feed continuously in the case packer without stopping.
The CP3 can handle a variety of pack formats, including trays, pots and sandwich packs, in materials such as A-PET, C-PET and board. Proseal said auto tool technology enables 'fast and easy' format changes, while Quick Release (QR) conveyors allow 'swift' removal and replacement to boost cleaning and maintenance.
Features include the ProTect user login and audit trail security system, which provides different levels of authorisation access for personnel, and compatibility with the ProVision OEE and downtime analyser.
Options include additional crate fill and increased length of buffering conveyor for higher speeds.
"All the qualities that have made our tray sealing machines so successful have been maintained within our new Proseal CP3," said Nick Severn, control systems engineer at Proseal. "For food manufacturers it provides the perfect complement to help ensure fast and efficient onward delivery to meet the strict deadlines of the retail sector."