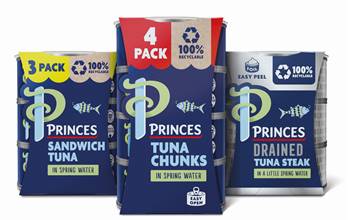 PRINCES has announced that it is to move its tuna multipacks into fully recyclable packaging.
The move forms part of the group's goal of all its packaging being 100% recyclable, reusable or compostable by 2025.
Its tuna four packs are now available in cardboard sleeves, with the firm saying three packs will follow in September and six packs are currently being developed with the aim of being in stores by March 2022.
It comes following research by the food company which found that a third of households have become 'greener' since lockdown came into effect – demonstrating consumer demand for environmentally conscious products and brands.
Neil Bohannon, group director at Princes, said, "The move of our multipacks to cardboard is an important stage of our journey towards being plastic free – something we know is vitally important to our consumers. We will continue to invest in this despite the other challenges faced in the current climate, demonstrating our commitment to our own sustainability journey as well as the support we can offer our consumers."